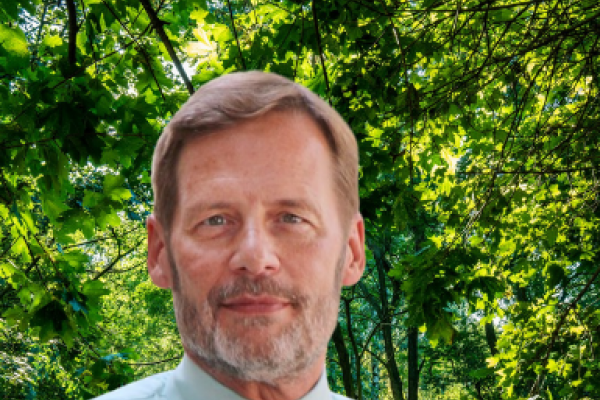 Q&A with Policy Division Lead Robin Jenkins, PhD
Robin Jenkins, PhD, is a senior implementation specialist at the UNC Frank Porter Graham Child Development Institute (FPG) and the division lead for the Policy Division. The division was borne out of our strategic planning to enhance the process of translating the powerful research that takes place at FPG into policies that change the lives of children and their families.
What is the Policy Division?
The Policy Division is here to help translate and bring to bear FPG's scientific expertise to the public policy space. Whether it's the work that goes on directly as a function of FPG investigations, or the expertise of those investigators as applied to other activities, the division's role is to organize that work and to try to expose it in a way that helps the populations being studied by bringing that expertise to the policy landscape.
FPG focuses on child and adolescent development. Some of that work is from before birth, and some of it goes up to age 21 and beyond, because we know brains are still developing into the early 20s. We're known for our child development and early childhood expertise, with an emphasis on elementary school age children, but we also have investigators who are focusing on the experiences of adolescents and young adults.
What kinds of work are ongoing right now through the division?
We're doing a lot of work around early childhood, so birth-to-3 educational readiness and health. We're doing a lot of work with early childhood childcare quality, and Pre-K and kindergarten quality studies. There's a group involved with Governor Cooper's Early Childhood Action Planning Taskforce. Some of our folks are either on or advising various workgroups, like the Pathways to Grade Level Reading work, the NC Early Childhood Foundation's efforts across the spectrum of early childhood experiences, myFutureNC, and several others. Lots of work happens in the areas of inclusion (children with special needs), racial equity, and diversity among other subjects. We also have a connection with the UNC School of Government working with the Office of State Budget and Management to look for opportunities to coordinate FPG researchers with various state agencies. Sherika Hill has been interacting with the North Carolina General Assembly, exposing them to what FPG is doing around policy, and what our capacity looks like when assistance may be requested. Denni Fishbein, with her depth of knowledge in neuro-behavioral translational science, is significantly connected to policy work at federal and other levels. Sandra Soliday Hong, too, is applying her work in the early childhood measurement world to policy issues. We've met with on-campus and external partners to help them understand what we're trying to do in the policy space and how we can help and how we can co-develop projects with some shared funding that can inform policymakers and legislators when they have questions. These are just some of the things we're doing right now.
How does research move to policy?
It can happen in a number of different ways. The classic way is for a research project to focus on a particular investigative question, like, "What are the factors contributing to the highest quality care in early childhood environments?" Investigators engage in studies and generate a journal article, or a white or technical paper, or product that may have policy implications. There's the research, the analysis, and reporting, and then there's the translation and dissemination. These processes can be targeted to where there are hot-button policy conversations going on in the political landscape or for broadcasting to larger general audiences. For example, in the General Assembly there are two very big topics right now around early education and early childhood care: readiness for school and impacts of COVID, especially for families who are vulnerable. We can take what we are working on internally and decide how can we inform others about that, and we look for opportunities to engage with people who are talking about it. We don't do advocacy―we match our science and findings with our federal, state, private-sector, and public-sector contacts to support them with information when they're having these conversations.
What is your vision for the Policy Division?
FPG is a project-driven environment. My vision is to help the FPG Director's Office organize and grow our capacities at FPG to build and disseminate effective research to positively influence public policy. I also want our Institute to develop and grow our investigators' involvement in the policy space, and there are a couple ways of doing that. We recognize ways where this is already happening and we lift that up and highlight it. Another way is incentivizing the work, coming up with ways to academically and professionally match people's career interests with where they can become engaged in any part of the policy cycle, and get involved with it and mentor it. So, the work involves organizing current work, co-developing future work and investigations, and nurturing investigators' careers and competencies to do more in the policy space.
What are you excited about for the future of the Policy Division?
I'm excited that we'll be more organized and more effective in getting our work out. This can bring renewed recognition for what FPG has to offer around the policy work going on and what we can bring to various levels of public policymaking. I think the other thing that excites me with new folks like Denni Fishbein, Sherika Hill, and Iheoma Iruka, and our seasoned investigators, is that there is an intentional focus now on making the work matter in a very applied, value-added way. At FPG, there's basic and applied research, technical assistance, and implementation science, and now there's an awareness that our work at FPG has real translational value. I feel the same way about our race, equity, and inclusion conversations and how we're using our Equity, Diversity, and Inclusion Office to highlight where policy can make a difference for vulnerable populations and on the structural problems that people are finally talking about. That, more than anything, is a very exciting prospect. The last thing I"ll say about this is that we have investigators with intentional focus on research mechanisms, the explanatory ways that various conditions impact child development. And, by combining that newer, more intentional focus on mechanisms with an intent to translate that into policy, I think we're going to become more impactful in helping people understand the "whys" and "hows" of what happens with child and adolescent development and how that knowledge can really help create a better world for children and families.
How has your work led you here to this moment?
Fate and luck led me to FPG in 2017. I have a long history in human services and my background is filled with public policy work as far back as the 1980s. It all started in the juvenile justice and child behavioral health worlds where I began to get involved in policy at the county and state levels. A little later, Governor Jim Hunt was in office and I became involved in our local Smart Start initiative. I subsequently started a nonprofit with a great team, that took me into state and federal policy work as an outgrowth of our services focus. I was appointed by Governor Beverly Perdue to be the Chief Deputy Secretary for the NC Office of Juvenile Justice and Delinquency Prevention, a state level policy job that I held for five years. In some of my federal activities, I led the National Coalition for Juvenile Justice for two-and-a-half years and was on the coalition's executive board for about 10 years. I was also appointed to the Federal Advisory Committee for Juvenile Justice as an alternate or primary member for close to 10 years. So, I've had policy experience at every level of the government for many years. And now, I'm a board member of the National Prevention Science Coalition to Improve Lives where part of our focus is to broaden prevention science's promise by helping policymakers learn about evidence-based and cost-beneficial approaches to preventing negative outcomes among various populations.
I just want to give credit to Ayse Belger and the Director's Office for seeing the impact policy could have in an organized way, and I want to thank her for the support she's given us. I also want to thank my FPG colleagues, because they've very unselfishly given their time to think about this and come to meetings and think about having a shared vision that can benefit North Carolina's children and families. When you have those kinds of people working next to you with that kind of passion, it's really fun work.