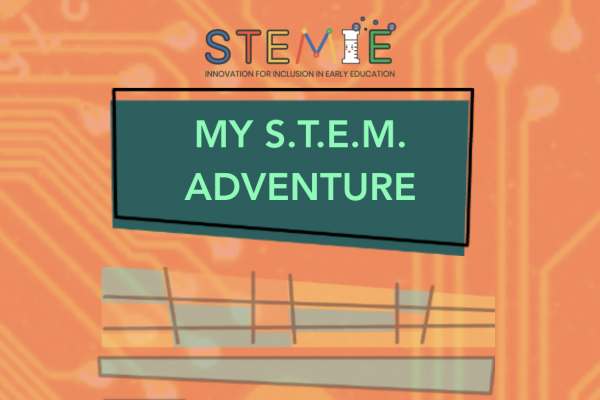 STEMIE launches My STEM Adventure app
The STEM Innovation for Inclusion in Early Education (STEMIE) Center, in partnership with Bridge Multimedia and Fable Vision, recently launched version one of their new web app that seeks to help young children learn about science, technology, engineering, and math by exploring the world around them together with the adults in their lives.
My STEM Adventure prompts children to interact with and take pictures of objects in their surroundings that fit the description of the prompt in order to introduce them to STEM concepts. The app currently teaches two STEM concepts: ABAB pattern recognition and recognizing objects big and small in the child's environment. Families or practitioners lead young children on adventures in their homes or neighborhoods on a hunt for items resulting in a storybook about the child's adventure and what they learned about comparing big and small items or about ABAB patterns.
"The idea emerged as we were thinking about developing STEM kits for families to be able to interact with their children in playful STEM learning," said Chih-Ing Lim, PhD, STEMIE co-director. Megan Vinh, PhD, STEMIE co-director added, "But with STEM kits, scaling up and sustainability did not seem as feasible. So, as we worked with our project officer, she challenged us to be innovative. We decided to take the tenets of our STEM kit idea and develop an app instead."
Vinh said the tenets of the STEM kit idea include positive adult-child interactions, which are essential for effective STEM learning, accessible materials that include children with and without disabilities in learning, and showing that STEM learning can be very affordable. The app aims not only to support STEM learning, but also to involve parents and practitioners more directly in children's learning experiences.
"We know from research that early math and science learning opportunities can lead to academic achievements in third grade," Lim said. "But much more than that, when children engage in early STEM experiences, they are developing important life skills such as problem solving and critical thinking, collaboration with peers, and executive function skills."
"Children are curious and have a sense of wonder of the world around them, so they are already scientists to start with," Lim said. "So, what we are doing as adults is essentially harnessing their natural potential for STEM learning by noticing their interests and thinking, and then scaffolding their learning by asking questions, using STEM vocabulary, thoughtfully choosing materials, setting up the environment, and helping them take their learning to the next level, all in a playful way."
My STEM Adventure is currently in the prototype stage. Next steps in development for the app include the addition of more STEM concepts for children to explore, as well as iOS and Android versions of the app, allowing children, families, and practitioners to access the app without need for an internet connection.