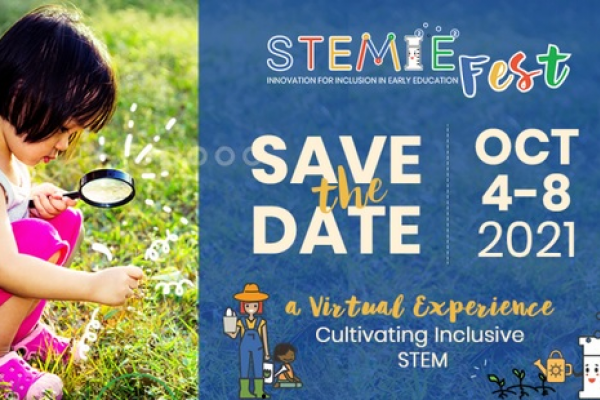 STEMIEFest 2021: Cultivating inclusive STEM for all young children
Building on the success of its inaugural STEMIEFest in 2020, UNC Frank Porter Graham Child Development Institute's STEM Innovation for Inclusion in Early Education Center (STEMIE) is hosting the second annual STEMIEFest from October 4 through October 8, 2021. This free, online, interactive conference offers STEM (science, technology, engineering, and mathematics) education resources and support for early childhood educators, early childhood special education practitioners, families, and others who work with young children and their families.
"This conference is important because while we know STEM is critical for young children and for their future success, we often do not intentionally engage young children in STEM," says Megan Vinh, PhD, senior technical assistance specialist at FPG and principal investigator of STEMIE. "STEMIE wants to support families, practitioners, and faculty to embed STEM in activities they do and ensure that all children—and especially children with disabilities—are provided opportunities to engage with STEM. And we must hold high expectations for children with disabilities."
With more than 1,800 registrants from throughout the world and between 150 and 300 participants in each session, STEMIEFest 2020 was a huge success. In the post-event evaluations, 94.2 % of respondents said that they were likely or very likely to recommend that others attend STEMIEFest. And the impact went beyond the conference: Between the end of last year's conference and registration for this year's event, there were 7,224 pageviews generated by 4,521 users engaged on the STEMIEFest pages.
The feedback from attendees of STEMIEFest 2020 included comments such as:
"STEMIEFest was relevant to my daily work. It gave great takeaways that I can start using today."
"It was great! Very interactive―the ability to ask questions made it seem like a more intimate and individualized conference."
"Children with disabilities can be taught, we just need to explore ways to teach them―ways that are fun not only for the child but for those who are teaching them."
"Presenters related STEM to everyday situations and occurrences. They provided great examples of how teachers can be successful in identifying and facilitating STEM."
This year's conference, which is designed as an online experience, focuses on how best to involve people virtually. To this end, participants will be able to engage with speakers during live question-and-answer sessions. There are poster presentations and some prerecorded content, which attendees can watch at times most convenient for them, but most of the conference is interactive. Virtual exhibition booths—staffed by a range of resource providers including the National Center on Early Childhood Development, Teaching, and Learning—offer supports and educational resources to attendees.
A family and practitioner planning committee, which helped shape this year's program, suggested having more informal opportunities for people to meet up. To address this request, the conference will include virtual "lounge and learn" spaces for attendees and presenters to continue having conversations around specific topics, such as expanding young children's opportunities for mathematics learning.
STEMIEFest 2021 also includes meetups -- informal spaces where participants can meet with one another. "We envision the meetups as a place where, for example, a family with a two-year-old who is blind can meet up and exchange information with other families," says Chih-Ing Lim, PhD, co-director of STEMIE. "We all learn from each other and engaging in this kind of virtual experience helps us think about ways to increase our use of important strategies."
Like last year, all sessions will have ASL interpreters and closed captioning. New this year is live Spanish translation for all main stage events. Another new addition is panels featuring speakers with disabilities. "One panel is with people with disabilities working in the STEM field," says Lim. "They are going to be able to speak to why STEM is important to children and the world and share successes and barriers they have faced in pursuing their STEM careers." In addition, a panel will feature a mother and a son with a disability who will share their experiences and setting high expectations. "Listening to the lived experiences of those who have gone through this journey is critical for everyone to hear," says Lim.
"The point of this conference is to center equity and inclusion for children with disabilities in early care and education," says Vinh.
Continuing Education Units (CEUs) and/or professional learning certificates are available. Use this link to register: https://events.hubilo.com/stemiefest-2021/home