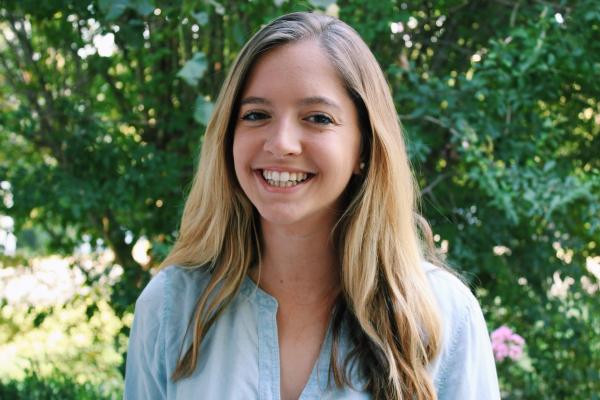 Student Researcher Anna Morgan Receives FPG's First Ever Barbara Davis Goldman Award
Your donation will support future award winners.
Anna Morgan, a senior from Raleigh, N.C., has always been interested in what makes us human.
At Carolina, she chose to major in psychology, where she quickly learned how research could lead to answers for her biggest questions about how human beings—especially those with special needs—navigate the world, and how she could be a part of improving the human experience for all.
Her junior year, she sought an unpaid internship at the UNC Frank Porter Graham Child Development Institute, which evolved into a two-year, paid role as a research assistant at the Institute. In recognition of her commitment to investigating the tools children and adolescents need to live their best lives, Morgan has received the inaugural Barbara Davis Goldman Award for Excellence in Undergraduate Research, which acknowledges an outstanding undergraduate student who has participated in research activities at FPG.
Her time working on research projects with experts at FPG, which she still does from home during the COVID-19 pandemic, is "the most meaningful part of my college career," says Morgan.
"My decision to follow this path was largely driven by my interest in research that would improve the lives of children with developmental disorders," she says. "By helping these children, we may be able to minimize their likelihood of developing depression or anxiety later on in life, which is an area of research that I am also passionate about."
Since her first unpaid internship in the summer of 2018, Morgan has worked with Desiree W. Murray, PhD, and Alyson M. Cavanaugh, PhD, on studies exploring how young children and adolescents practice self-regulation and manage stress. Morgan is now the lead research assistant for a teen stress study which examines the stress of adolescents across the context of their daily lives.
"A lot of what defines us in adulthood is a direct result of our childhood and adolescent experiences," says Morgan. "This is an incredibly important stage of life to begin teaching children about self-regulation and how to understand their emotions. That is especially true for children with developmental or behavioral disorders, but it is relevant for all children. This can have such an influence on how we interact with others and address problem solving as adults."
Cavanaugh says Morgan has been not only an important part of their research team for the past two years, but that she is also one of the most giving and selfless students on the team.
"Her desire to help children, particularly those struggling with ADHD, motivates her research," Cavanaugh wrote in her nomination. "As a graduating senior, Anna is leaving FPG with a tremendous research skill set, including experience communicating with and training of research participants and staff, problem solving, and critical thinking. These skills evolved to an advanced level where she is currently functioning as an independent research assistant who is proposing solutions, sharing reports on data collection, and managing a database."
The award is named for Barbara Davis Goldman, PhD, a recently retired UNC-Chapel Hill research professor in the Department of Psychology and Neuroscience, in recognition of her commitment to empowering, mentoring, and teaching Carolina's talented future investigators over her nearly four-decade career. Goldman, a senior research scientist emerita at FPG, has played a pivotal role in bringing meaningful research experiences to many of Carolina's undergraduate students by offering the opportunity for students to experience valuable autonomy and creativity as they learn to ask important questions and seek answers.
For Morgan, receiving this award is a bright spot in otherwise uncertain circumstances. As a senior at Carolina, many of the milestones she'd looked forward to are canceled or postponed. She says even having her name associated with Dr. Goldman's reinforces that she's taking her career in the right direction—and that it's all been worth it.
"During COVID, you end up feeling uprooted," she says, "and being able to continue working for FPG is a true blessing. When I learned that I won this award, I thought of the hard work over the last two years and my incredible team and mentors that made all of it possible. Dr. Goldman has a remarkable legacy, so winning an award in her name symbolizes the importance of what I hope to do for the rest of my life."