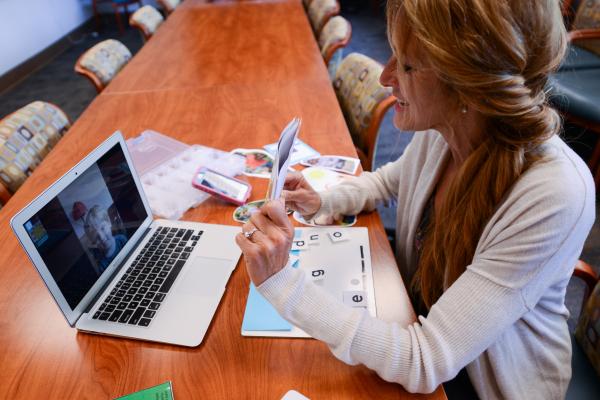 TRI@Home Extends Expert Literacy Training Beyond the Classroom and Into Homes
In many families, parents are now taking on the role of teachers, particularly if they've decided to homeschool for the first time during the COVID-19 pandemic.
Literacy experts at Targeted Reading Instruction (TRI), a project at the UNC Frank Porter Graham Child Development Institute, have responded to that shift by creating TRI@Home. TRI@Home tailors the same evidence-based support TRI has long offered teachers for parents who find themselves supporting their own young readers.
TRI@Home provides virtual one-on-one coaching sessions to help parents use TRI's proven lessons and strategies. TRI coaches support parents to work with their children ages 4 to 8 as they learn to read or overcome hurdles to being successful readers. Parents can register for single lessons or a group of lessons for a discount. To learn more and register, click here.
"TRI@Home is more than a tutoring program—we want to help both parents and children," says Mary Bratsch-Hines, PhD, principal investigator for TRI. Through live coaching, a library of child-focused video lessons, and other digital resources, parents learn how to teach decoding and comprehension strategies, which can help children progress past reading difficulties and build new skills.
Bratsch-Hines says that the pandemic, which has many kids at home learning virtually, homeschooling, or, in the case of 4-year-olds, not attending preschool, provides a unique opportunity to disseminate their work beyond teachers. TRI@Home coincides with the program's rebranding—from Targeted Reading Intervention to Targeted Reading Instruction—which gives the program a long-desired broader reach.
"Our biggest goal is that we want all kids to be readers," says TRI's Intervention Director Heather Aiken, PhD, NBCT. "Traditionally, we have helped teachers develop their knowledge of reading instruction and use TRI strategies to promote reading growth. TRI@Home is part of our response to the current pandemic because we know that parents may be feeling a little uncertain as they navigate teaching reading for the first time."
Most parents recognize the benefits of reading to their children, but exposure to books isn't always enough to help a child develop reading skills. Parents often aren't able to recall how they learned to read, or they rely on common pitfalls that fail to help children read, such as telling children to "sound it out" when they see a word they don't know. TRI teaches strategies that focus on recognizing, breaking apart, and blending sounds in words, and then immediately relating those words to a story, so children better connect language with reading.
"As parents, we hope that lots of reading time is going to propel our child to become a reader, and sometimes, that just doesn't happen," says Teresa Taylor, MEd, NBCT, a literacy coach for TRI. "We want to help children learn more explicitly how sounds come together to form words. A lot of the time, they just need a little help in the right direction. We know that when children learn TRI strategies, they can really progress."