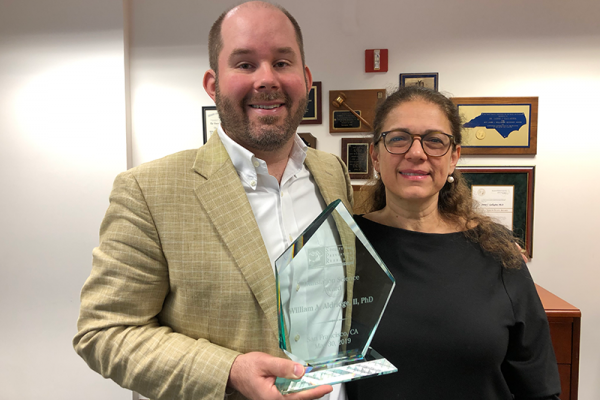 Will Aldridge Receives 2019 Society for Prevention Research's Translation Science Award
Will Aldridge, PhD, was awarded the 2019 Translation Science Award by the Society for Prevention Research. This prestigious award is given to an individual or a team of individuals in recognition for contributions to the field of prevention science in the areas of Type 1 or Type 2 translational research. These two areas focus on moving from basic research to clinical research and on moving from clinical research to practice, in order to improve human health.
"This recognition is an amazing honor from such an important community of colleagues in prevention and implementation science," said Aldridge. "The Society for Prevention Research is moving the dial on evidence for how we can improve the lives of children, families, and communities across our country and our world." Aldridge continued, "This award is truly a reflection of the professional partnerships our team has been fortunate to have within SPR and FPG, and with funders like The Duke Endowment, the North Carolina Department of Health and Human Services, and the Child and Family Policy Institute of California."
Aldridge is an advanced implementation specialist at the UNC Frank Porter Graham Child Development Institute and is the director of The Impact Center at FPG. Aldridge is the principal investigator on the Implementation Capacity for Triple P projects in North Carolina and South Carolina. Recently, he was also part of a team with Impact Center at FPG colleagues Renee Boothroyd (Principal Investigator) and Robin Jenkins providing active implementation support for the California child welfare system's Core Practice Model. Aldridge's work at FPG provides active support and evaluation research on the implementation and scale-up of evidence-based prevention and wellbeing strategies in communities and state, regional, and national service systems.
In addition to his work at FPG, Aldridge is affiliate faculty and implementation science strategist at Penn State University's Edna Bennett Pierce Prevention Research Center. He also serves on the board of directors of the National Prevention Science Coalition to Improve Lives and recently joined the steering committee of the Coalition for the Promotion of Behavioral Health. Aldridge is presently serving as a committee member on the National Academies of Science consensus study on fostering healthy mental, emotional, and behavioral development among children and youth.
Nominations for the SPR Translation Science Award are submitted by the SPR membership, or the awards nomination committee, and are confirmed by the SPR Board of Directors. Aldridge is the 10th recipient of this award.
Read more about Aldridge's work with The Impact Center at FPG.