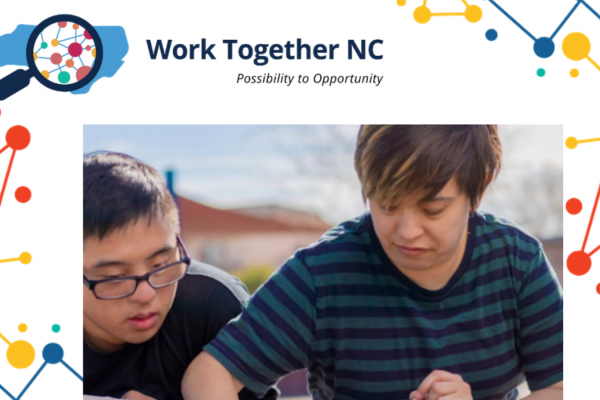 Work Together NC launches new website
While North Carolina offers a number of services and supports for young children and teens with intellectual and developmental disabilities (ID/DD), there is an abyss once these individuals transition to adulthood. To address this need, a team of stakeholders, including more than 120 community partners across the state, recently launched Work Together NC, a cross-sector collaborative working to achieve a more equitable and seamless system in North Carolina. The collective effort is dedicated to optimizing access to employment, higher education, and community living, with a particular focus on the needs of multiply-minoritized groups.
An interdisciplinary team across multiple departments at UNC-Chapel Hill created Work Together NC in partnership with adults with ID/DD and their families, organizations, employers, agencies, allies, and self-advocates. Brianne Tomaszewski, PhD, a faculty fellow at the UNC Frank Porter Graham Child Development Institute (FPG), is the principal investigator for this five-year project that began in 2021. Funded with a $1.1 million grant from the United States Department of Health and Human Services Administration for Community Living, the stakeholders have created the North Carolina Community Employment Collaborative to identify current strengths and barriers of existing transition services, expand and strengthen transition services, and facilitate the improved transition from school to postsecondary education and employment.
Tomaszewski, an assistant professor at the UNC TEACCH Autism Program, invites all involved in any way with individuals with intellectual and developmental disabilities in the State of North Carolina—or who want to be—to collaborate with Work Together NC. She notes the importance of including practitioners and families in the early childhood development space because of the importance of beginning to think about the transition to adulthood early in the lifespan.
Since the project is dedicated to reaching multiply-minoritized groups, a racial equity and cultural responsiveness work group is evolving into an outreach focused group with the goal of centering subgroups of the ID/DD population who are often unable to access services. To this end, Tomaszewski is hosting a listening session, "Working Together to Turn Possibilities into Opportunities during the Transition to Adulthood," which will be offered in both English and Spanish.
 
With the collaborative bringing together a wide range of stakeholder groups—ranging from the state Department of Public Instruction to community rehab providers and from the state Division of Health and Human Services to employers—Tomaszewski is leading the effort to re-imagine a more equitable system. Rather than creating new services or programs and duplicating efforts, the collaborative is building resources to ensure that service providers, employers, and families can easily access needed information.
"Individuals with disabilities deserve the same opportunities as everyone else," says Tomaszewski. "It's a disservice to not have environments where individuals are able to bring their perspectives and bring what they can to the work."
The recently launched website is a first step in this process. Launched in February 2023, the site provides a one-stop hub of resources and information for families, creating easier access to opportunities and services supporting the transition to adulthood. "We realize how siloed this information has been so our goal is to not just provide easier access but to facilitate broader awareness and collaboration across stakeholder groups," says social clinical research specialist Jacklyn Boheler, MA, OTR/L ,project coordinator of Work Together NC. Boheler says she appreciates the process of designing the site with FPG's Information Technology Services group, which was open to creating a site that reflects the needs of the community.
 
FPG educational technology specialist Julie Chin agrees, noting that the Work Together NC team wanted the site to be accessible to neurodiverse individuals and to emphasize the collaborative nature of this project. "We wanted to design the content in approachable ways for people to connect." she says. FPG web designer/developer LaMana Donadelle, MS—who joined FPG in November—appreciated the challenge of ensuring that the site worked equally well for its diverse audiences. "I am new to both FPG and the audiences that we build websites for," she says. "Because I have a background in user centered design, using that lens of diversity was exciting to me. The users of this site will be looking for content that will help improve their lives, so it was very important that we got it right when it came to making the site usable and accessible."
 
Now that Work Together NC has established the North Carolina Community Employment Collaborative and conducted a community landscape analysis before launching the website, the next steps include developing, piloting, and implementing a community transition plan. The goal is to address the stark reality that 56 percent of working age North Carolinians are unemployed.
 
People with intellectual and developmental disabilities experience systemic barriers to employment not because they lack the ability to be meaningful contributors to the workplace. Instead, the roadblocks are stigma around these individuals and employer misconceptions about hiring people with ID/DD. This untapped workforce is particularly needed now as the nation faces staffing issues and the need for reliable employees in jobs in which people with ID/DD thrive.
 
"Individuals with disabilities deserve the same opportunities as everyone else," says Tomaszewski. "It's a disservice to not have environments where individuals are able to bring their perspectives and bring what they can to the work. It's frustrating that this project exists because these things should be happening but they are not. So we have to make these changes and expand the systems to create the environment that we all deserve."