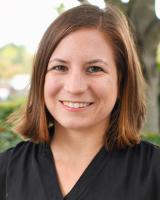 Brianne (Gerlach-McDonald) Tomaszewski
Academic Affiliation
Research Assistant Professor
Education
Human Development and Family Studies,
Colorado State University
Human Development and Family Studies,
Colorado State University
Michigan State University
Northern Michigan University
Biographical Statement
Brianne Tomaszewski, PhD, is and FPG faculty fellow and a research assistant professor in the Department of Psychiatry at the TEACCH Autism Program. She completed her postdoctoral training in the Carolina Institute for Developmental Disabilities T-32 Post-doctoral Research Training Program in neurodevelopmental disorders under the mentorship of Samuel Odom at the UNC Frank Porter Graham Child Development Institute. Tomaszewski received her PhD in Applied Developmental Sciences from the Department of Human Development and Family Studies at Colorado State University. Tomaszewski is a developmental scientist focused on using advanced quantitative developmental research methods to understand underlying mechanisms that improve functional outcomes in individuals with developmental disabilities across the lifespan. She has focused on examining functional outcomes in individuals with Down syndrome and individuals with autism spectrum disorder from toddlerhood to adulthood and is interested in using her work to inform implementation and evaluation of interventions. She currently works on the Center on Secondary Education for Students with Autism Follow-Up Study (CSESA), Step it Up: Increasing Physical Activity for Adults with ASD, and The Efficacy Study for Elementary Learners with Autism Spectrum Disorder (TESELA) projects at FPG, and two randomized-controlled trials of the TEACCH Autism Program on the TEACCH School Transition to Employment and Postsecondary Education (T-STEP).