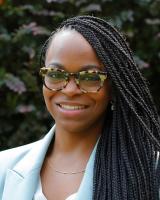 Danielle J. Allen
Education
Education: Policy, Leadership and School Improvement,
The University of North Carolina at Chapel Hill
Biographical Statement
Danielle J. Allen, PhD, is a project director for the Equity Research Action Coalition. Her research interests include the role of Black faith communities in advocating for and providing high quality educational opportunities for students and families as well state-level efforts to address equity within education. She is also a qualitative researcher at the Education Policy Initiative at Carolina (EPIC) within the Department of Public Policy at UNC.