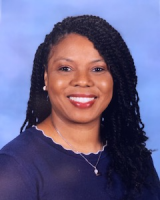 Sharon L. Lunn
Technical Assistance Specialist
Sheryl-Mar North, Room 279
Campus Box 8040
Chapel Hill, NC 27599-8040
Education
Sociology/Social Welfare,
Winston-Salem State University
Biographical Statement
Sharon Lunn, MEd, is a technical assistance specialist currently serving within the Trohanis Technical Assistance Projects at the UNC Frank Porter Graham Child Development Institute. She provides technical assistance to support states in building high-quality systems that implement evidence-based practices related to the Individuals with Disabilities Education Act (IDEA) early childhood requirements. Sharon has over 20 years of experience in early intervention (EI) and early childhood special education (ECSE). Entering the field as a classroom teacher, and case manager, her progressive experience has led to various leadership roles in both public and private sectors. In that span, she has previously served as an early childhood program administrator, regional quality improvement coordinator, and state level consultant/TA specialist. Sharon is a certified counselor/educator and has worked to ensure optimal outcomes for young children of diverse populations and their families in an array of service settings. This work has culminated to define her professional focus in the areas of early childhood governance, accountability and quality improvement, family engagement, and early childhood transitions.