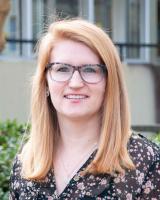 Stephanie R. Catlett
Education
Leadership, Policy and Advocacy,
The University of North Carolina at Wilmington
Birth to Kindergarten Education,
Western Carolina University
Biographical Statement
Stephanie Catlett, MEd, is a Project Manager for the CBHLT within the Impact Center. She has a Bachelor's in Birth to Kindergarten Education and a Masters of Education in Leadership, Policy and Advocacy. She's worked at the Chatham County Partnership coordinating the NC PreK program and as a Research Assistant on the Preschool Writing Project here within UNC's Allied Health Department which brought an early literacy intervention program to local Head Starts.