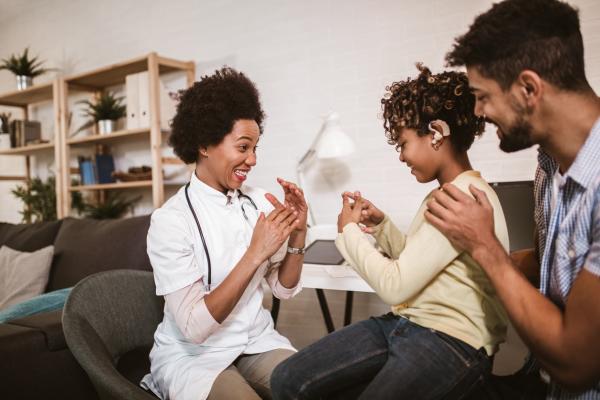 Child Find ACCESS aims to improve services for infants, toddlers, and children with disabilities
Researchers at the UNC Frank Porter Graham Child Development Institute (FPG) have recently launched the Child Find ACCESS project, a model demonstration to improve services and results for infants, toddlers, and children with disabilities. The project, which aligns with the Institute's commitment to equity, is designed to address ongoing challenges experienced by states in identifying infants and toddlers needing early intervention services, which has resulted in persistent racial inequities and disparities in identification rates.
Child Find, a legal requirement under the federal Individuals with Disabilities Education Act (IDEA)—ensures that states and local education agencies use an evidence-based identification, screening, referral, and tracking system so that children who need early intervention services are enrolled in the system as soon as possible, providing children the best chance of success. This project will help inform and build the capacity of Child Find systems to implement community-based, culturally responsive approaches for providing equitable access and experiences for infants and toddlers and their families, especially those from historically underserved populations.
FPG implementation specialist Julie Austen, PhD, and Sherri Britt Williams, MPH, who leads the Technical Assistance Division at FPG, are co-principal investigators on the implementation side of the project. Both are excited that SRI International invited FPG to partner on this important work. Funded by the Office of Special Education Programs of the U.S. Department of Education, the five-year project began in October 2021.
The goals of the model demonstration project are to:
increase appropriate referrals to IDEA Part C early intervention programs for infants and toddlers, with a higher proportion occurring for younger children;
increase efficiency of information sharing across local programs and systems serving infants and toddlers and their families; and
decrease existing inequity in access to Part C early intervention services for infants and toddlers.
Project leaders will conduct their research in three North Carolina counties—Cumberland, Hoke, and Iredell—selected due to longstanding equity issues, to produce a model that states can use independently, or with technical assistance, to help them expand equity in their Child Find systems. In addition, the project seeks to increase the number of families from traditionally underserved populations that take advantage of developmental screenings and enrollment in services. This will be achieved by centering the voices of families and their culture throughout the implementation process.
"There is no 'one size fits all' approach to systems intervention, which is truly multifaceted," said Austen. "Because of that, we need to utilize a very robust exploration process, so we want to produce one that is strong, implementation science-focused, data-centered, and community-centric." Cognizant of the fact that the best and most equitable results arise from this community-centered process, Austen, Williams, and their team acknowledge that they do not have the answers. Rather, they have processes they will utilize to co-create knowledge with community members.
FPG's Trohanis TA Projects—dedicated to improving the availability and quality of services, and ensuring optimal outcomes, for very young children with, or at risk for, disabilities and their families—houses both The Center for IDEA Early Childhood Data Systems (DaSy) and the Early Childhood Technical Assistance (ECTA) Center. DaSy and ECTA have created several products designed to help states identify, refer, and track children for early intervention services. This project will enable the team to determine how to best refine and use these products.
"We are emphasizing the importance of building relationships and understanding cultural contexts of communities," said Williams. "A key feature of the model will involve identifying and supporting trusted cultural brokers within the community to improve communication and partnerships with families."
With a systems change approach, grounded in implementation science, the model demonstration project will identify and provide individualized support within the cultural context of each community, to increase the success and sustainability of the model. In the process, the team is emphasizing and providing support for relationship building, stakeholder engagement, sustainable systems change, and data-driven decision making.