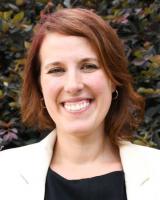 Julie M. Austen
Implementation Specialist
Sheryl-Mar North, Room 279
Campus Box 8040
Chapel Hill, NC 27599-8040
Education
Health Psychology, Pediatric School Psychology,
Chatham University, Chatham College for Women
Biographical Statement
Julie Austen, PhD, is an implementation specialist at Frank Porter Graham Child Development Institute at The University of North Carolina at Chapel Hill. She is a liaison, broker, and coach to communities and agencies as they develop the capacities necessary to support culture change, clinical models, or other evidence-based programming. Julie provides technical assistance, consultation, resource acquisition or development, content development, knowledge transfer, and implementation science-based approaches to community or organizational initiatives.
Working across settings in schools, Federally Qualified Health Centers (FQHCs), school-based health centers, and specialty medical clinics, Julie has a decade of experience contributing to implementation and scaling, workforce development, and organizational change components of critical program scale-ups. She has served as a national and state subject matter expert on the intersection of pediatric integrated care programming and implementation science.
Julie is particularly passionate about collaborating with NC communities to re-define healthcare. She has led rural, countywide child health interventions, gaining important experience in aligning community systems, coaching, and supporting outcome measurement. A health psychologist by training, she also has significant clinical expertise working with rural, under-resourced, and marginalized populations.
After earning a doctorate in Health Psychology with a specialization in Pediatric School Psychology from East Carolina University, she completed post-doctoral training in adult behavioral medicine with a rural FQHC family medicine and women's health clinic. She is a former HRSA Student/Residents Experiences & Rotations in Community Health Fellow and has earned national recognition for her work in developing integrated care programming, clinical training opportunities, and clinical policy for rural, traditionally marginalized or stigmatized populations (e.g., PLWHIV/AIDS, trans and gender diverse peoples, youth, incarcerated peoples, homeless and transient peoples, among others). Julie completed The Diversity, Equity, and Inclusion in Research (DEIR) Certificate Program at UNC-Chapel Hill in 2021. She is a licensed psychologist. Most importantly, Julie has lived experienced as a former at-risk youth.