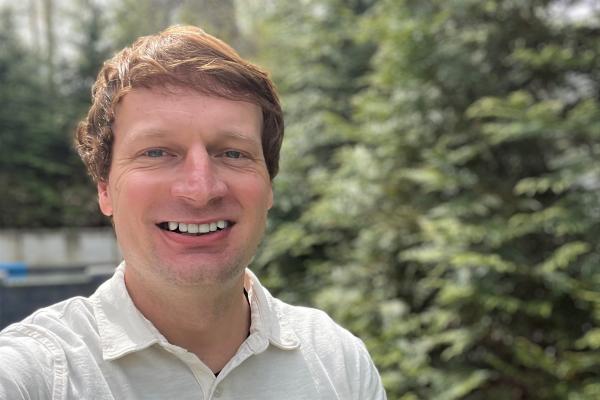 Kellen Reid, MD, MPH, is a technical assistance specialist with the Early Childhood TA (ECTA) Center within the Trohanis Technical Assistance (TA) Projects at the UNC Frank Porter Graham Child Development Institute (FPG). As part of our FPG profile series, we recently spoke with him to learn more about his work here at the Institute. Here's what he had to say.
---
Tell us about your professional journey―how did you become a TA specialist and what brought you to FPG?
Becoming a technical assistance provider at FPG was an admittedly unforeseeable destination on my professional journey until, suddenly, it wasn't. During my final year of medical school, I decided to pursue a Master of Public Health (MPH) with a focus on program planning and evaluation.  In this, I saw the potential for improving the health of populations, not just individuals, through intervention at the systems level. My professional journey up to that point had also been shaped by my personal journey as a child with a physical disability, which was further complicated by the challenges that the healthcare and educational systems presented.  As a beneficiary of and witness to the power of individual champions in my life, including my family and medical professionals, my path was given a direction. After graduation from UNC's schools of medicine and public health, I decided to apply for both residency positions and research/public health positions to see which opportunity best aligned with my personal and professional goals; that is, to make possible for other children what was made possible for me.  
Describe a typical workday and tell us about the projects you're currently working on.
A "typical" workday for me is generally one that is not easily typified but if I had to say one thing that is consistently part of my day, it would be Zoom. Beyond that, the nature (e.g., scope and depth of topics, participants, format) of these calls and my work are wide ranging. This is because my primary responsibility on two of the three projects for which I currently work is to assist states with building high-quality early childhood systems.  I provide expertise in areas such as child outcomes measurement, finance, and data use to states as a TA provider for the Office of Special Education Programs (OSEP) funded national TA Centers: the Center for IDEA Early Childhood Data Systems (DaSy) and ECTA.  On any given day, I may be collaborating with colleagues at FPG and our projects' partner centers to coordinate and advise on incoming requests; analyzing the national early intervention (EI) and early childhood special education (ECSE) data; meeting with an individual state's EI/ECSE staff to develop policies and procedures for their child outcomes measurement system; or finalizing a fiscal data analysis tool for Part C programs.  
I am also excited to be part of the STEM Innovation for Inclusion in Early Education (STEMIE) Center given my background with and love for STEM.  My current focus here is reviewing state early learning guidelines to understand the breadth and depth of STEM elements in these standards across the nation. All in all, I believe it is fair to say that the possibilities for tomorrow are endless!
What do you like most about your job?
What I like most about my job is that it is rewarding.  Whether it is pioneering the knowledge base of STEM learning in early childhood or building the capacity of state EI and ECSE staff and systems to improve outcomes for families and children with disabilities, I find it all very fulfilling.  
How does your work further the mission of FPG?
I would like to think that my work is furthering the mission of FPG through my interactions with state EI/ECSE staff that build their capacity to analyze and use data for program improvement and to develop and implement high-quality policies and practices, among other things. Additional work on review and analysis of state materials and data help us understand the state of related aspects of early childhood systems for general knowledge building, identifying needs and progress, and informing innovation approaches.  In fact, I find it difficult to think of a single aspect of my work that does not further FPG's mission.
Tell us about your biggest professional achievement since coming to FPG.
I don't see any accomplishments related to my work as "my achievements."  Rather, I find the greatest professional fulfillment from any of my efforts that contribute to improving outcomes for children with disabilities and their families.