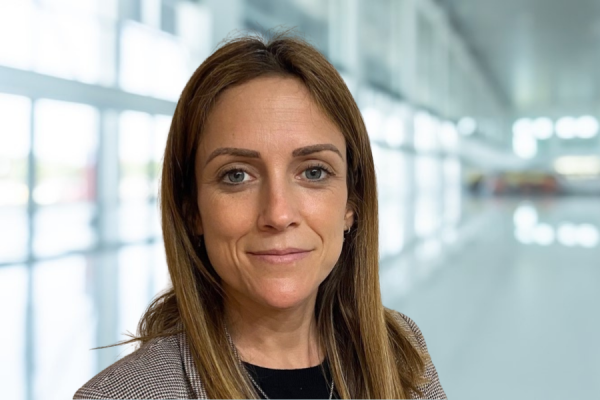 FPG Profile: Visiting international scholar Julia Argente Tormo
Since arriving in September at the UNC Frank Porter Graham Child Development Institute (FPG), visiting international scholar Julia Argente Tormo has been immersed in learning. A physical therapist and occupational therapist working toward her PhD, Argente Tormo plans to bring her newly acquired knowledge to L'Alquería Early Childhood Education Center at the Catholic University of Valencia, where she works as a practitioner with children with disabilities, ages birth to six years, and their families. She will also utilize her knowledge at Card Capacitas, the research group to which she belongs at Catholic University, and in her advocacy work around policy changes in her home country of Spain.
As part of her doctoral studies, Argente Tormo is studying at FPG for six months, primarily focusing on adapting and validating the System Framework for Building High-Quality Early Intervention and Preschool Special Education Programs to evaluate the system in Spain. Her goal is to improve early intervention in Spain and use evidence-based practices to obtain the best results for children with disabilities and their families.
While Argente Tormo originally planned to study medicine, she decided on a career in physical therapy and occupational therapy because of her desire to work in an ongoing way with clients. Argente is passionate about her work, saying that she was born to provide support to others. She has served as a practitioner with children with disabilities and their families for the past 12 years, after first working with adults with disabilities.
She chose to study at FPG because of its international reputation as a leading authority on early childhood issues. Argente Tormo says that she was thrilled when Christina Kasprzak, MA, who leads the Trohanis TA Projects, and Noreen Yazejian, PhD, who leads the National Evaluation Partner for the Educare Learning Network Implementation Study, agreed that Argente Tormo could study at FPG. She enjoys learning from colleagues at FPG including those working in the Early Childhood Technical Assistance (ECTA) Center, and the National Implementation Research Network (NIRN) as well as colleagues in national associations such as the Division for Early Childhood of the Council for Exceptional Children (DEC). Argente Tormo appreciates having the luxury of time to read scholarly works and the opportunity to speak directly with the researchers who created the tool she is validating.
When talking about the differences between services for children with disabilities in the United States and Spain, she notes the U.S. has a federal law that mandates access to early intervention and preschool special education systems. There is no comparable law in Spain and there is little intersectoral coordination, a disconnect Argente Tormo believes creates less optimal outcomes.
She also recognizes and appreciates the technical assistance offered in the United States, which does not currently exist in Spain. Argente Tormo says that while there are many excellent practitioners in Spain, as well as financial support for services, she wants her tool to help build a more unified system that shares common criteria regardless of geographic region. With her doctoral thesis, she plans to demonstrate the heterogeneity in the early childhood arena and fight for a high-quality early childhood system that promotes the best results for children and their families.
To that end, Argente Tormo is also working with family leadership and ways that might impact systems change in Spain. Through meetings with other Spanish scholars, plans for a webinar bringing parents together, and the tool she is validating, Argente is working toward creating more connections in Spain. "Spanish families have a voice with their children's practitioners but not with the local and federal governments," she says. "I hope that building family leaders will impact the overall system and ultimately support all families and their children. I want a system that brings together families, early intervention, and education to ensure the best outcomes for children with disabilities and their families."
Argente Tormo is grateful for her experience at FPG, saying that she is growing personally, academically, and professionally. She appreciates the support of her colleagues, who have supported her in learning while also including her socially and culturally. "Being at FPG and learning with the people here is a dream," she says. She also mentions her colleagues from Card Capacitas and L'Alqueria, noting that without their support, her FPG experience would never have been possible.