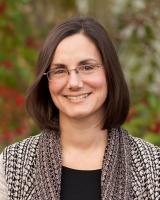 Christina M. Kasprzak
Senior Technical Assistance Specialist
Sheryl-Mar North, Room 281
Campus Box 8040
Chapel Hill, NC 27599-8040
Biographical Statement
Christina Kasprzak, MA, is director of the Trohanis Technical Assistance (TA) Projects at the UNC Frank Porter Graham Child Development Institute. Under Christina's leadership, the Trohanis TA Projects assist state and local early intervention and early childhood special education (EI/ECSE) agencies to develop and manage effective and efficient systems and implement evidence-informed practices in order to improve services and outcomes for infants, toddlers, and preschoolers and their families. For more than 45 years, the projects of Pascal "Pat" Trohanis have provided TA following evidence-informed principles of TA.
Christina currently serves as co-director of the Early Childhood TA (ECTA) Center and is PI on the FPG subcontract for the Center for Early Childhood IDEA Data Systems (DaSy). Christina specializes in program evaluation and has worked for ten years to support the measurement of child and family outcomes in EI/ECSE. She led the development of the ECTA System Framework for Early Intervention and Preschool Special Education, designed to guide state EI/ECSE leaders in evaluating their current systems, identifying potential areas for improvement, and developing more effective, efficient systems that support implementation of evidence-based practices. In March 2019, A State System Framework for High-Quality Early Intervention and Early Childhood Special Education was published in Topics In Early Childhood Special Education.
Christina provides TA internationally as well as in the US. She co-authored the book The New Voices ~ Nuevas Voces and she is currently a reviewer for Infants & Young Children.