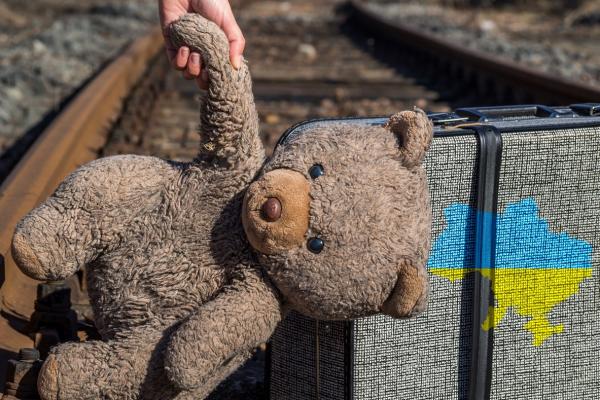 FPG researcher and UNC colleagues asked to create resources for autistic individuals impacted by war
It goes without saying that the war in Ukraine is devastating to the people of the country, including children and youth with autism and their families. Recognizing this, a psychologist with close ties to Ukraine along with an autistic self-advocate, who is also a parent of an autistic child in that country, reached out to Ann Sam, PhD, an advanced research scientist at the Frank Porter Graham Child Development Institute. The request was to create resources for families and professionals dealing with the effects of war and displacement, which have understandably resulted in challenges for autistic children.
Sam collaborated with colleagues from the School of Education and the Department of Allied Health Sciences at the University of North Carolina at Chapel Hill to address this need. This team of researchers, staff, and students developed a new "Timely Toolkit," a compilation of simple-to-use resources—accessible online to families and professionals—to provide support during times of uncertainty, conflict, and upheaval. The resources for war and displacement comprise the second major Timely Toolkit, the first having been created for COVID resources to support autistic individuals and families.
Jessica Steinbrenner, PhD, CCC-SLP, associate professor in the Department of Allied Health Sciences, notes that people in Ukraine—and any place where there is war and displacement—are living in uncertainty and fear, with their day-to-day life markedly changed and their routines different and potentially unpredictable. "Many autistic children and adults struggle with change and benefit from routine," she says. "The resources we developed are an effort to provide some supports, guided by evidence-based practices, to address the fact that change is inevitable and routine may not be possible in the same ways it once was."
The developed resources are not specific to Ukraine, with the hope that they can be of service throughout the world. Yet the team wanted the resources and materials to be relevant to individuals experiencing war and displacement.
"After the resources were developed and before posting, they were reviewed by the team in Ukraine," says Sam. "We want to make sure the needs of families and autistic children are centered and the resources can hopefully be helpful to those impacted." The Ukrainians who made the request for the tools are now working on translating them into Ukrainian and Russian.
The toolkit includes three categories of resources: social narratives, visual supports, and coping strategies. Social narratives explain in simple language what is happening or what will happen. The social narratives use words and pictures to support comprehension and reduce the child's sense of being overwhelmed. By helping to clarify what is coming, caregivers can increase predictability and offer a sense of control for children with autism.
The visual supports provide templates for daily routines and choice boards, and offer step-by-step instructions for scenarios such as what to do if hurt and several daily living skills. Visual supports can promote understanding and provide structure, even in the midst of a chaotic and uncertain time.
The third resource offers coping strategies since trauma can impact mental and physical health and contribute to challenges with communication and self-regulation. Again using words and images, the offerings provide calming routines, yoga poses, and mindfulness techniques, among other ways that children and families can deal with the unimaginable stress they are facing.
"We hope the resources make it a tiny bit easier for a family or professional to pull up some quick, ready-made tools that can provide a tiny bit of a routine that could be calming or soothing to someone in a time of stress," says Kara Hume, PhD, associate professor in UNC's School of Education. "We may be naive to think they can be helpful, but we wanted to be as responsive as possible to the requests so we developed what we could as quickly as we could."