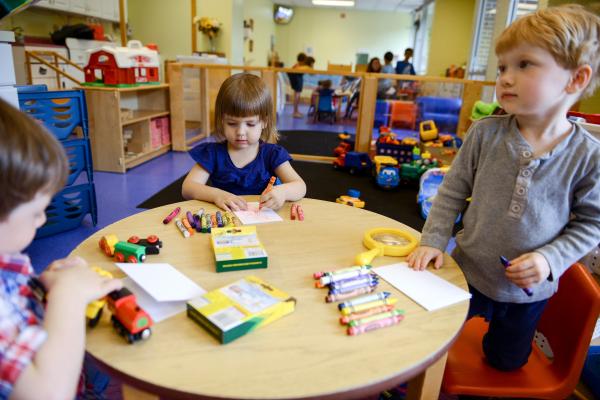 Georgia study shows that important pre-K benefits persist through third grade
A longitudinal study following children who attended Georgia's Pre-K Program shows that certain gains from pre-K persist through the third grade, particularly when it comes to language, literacy, and social skills.
A report released January 8, 2021, reflects a partnership between the UNC Frank Porter Graham Child Development Institute and the Georgia Department of Early Care and Learning. Though previous reports from this project showed that some benefits of pre-K began to fade out by second grade, gains in basic auditory processing and literacy skills necessary for learning to read persisted through third grade, as did gains in communication, cooperation, assertion, responsibility, empathy, and engagement.
Sandra L. Soliday Hong, PhD, research scientist, and Sabrina Zadrozny, PhD, statistician investigator and director of FPG's Data Management and Analysis Core, lead the project, which has annually evaluated academic and social outcomes for a representative sample of 1,169 Georgia pre-K attendees from the 2013-14 school year. Skills assessments have been performed in the fall and spring of each academic year from pre-K through third grade.
"Children who attend pre-K see a boost in their skills relative to the national average using a standardized scale. We found that the children we are studying maintained some of those gains on about half of measures through the third grade, and we found that their skills moved closer to the national average on others," says Soliday Hong. "That some of the benefits persisted through third grade is encouraging."
Particularly encouraging, she says, are the persistent benefits of pre-K for dual-language learners. These children started out with lower skills and made significant gains with language that moved closer to their English language peers over time. The state of Georgia has been able to use that information to strengthen its programming for dual language learners.
"Based on this information, early childhood education leaders in Georgia have been able to shift their system to better support dual-language learners who are coming to pre-K. This has very much been a research-to-practice partnership where the researchers have been able to offer these results annually so that the state team can use this information on a real-time basis to make improvements," says Soliday Hong.
Children in the comparison sample who did not attend pre-K scored lower on some assessments than children in the pre-K longitudinal sample. The findings were most pronounced in literacy measures—suggesting that foundational skills, which are a focus of pre-K, were not obtained by children in the comparison sample. Classroom quality was highest in pre-K but remained at moderate levels through third grade.
"The quality of classrooms in the kindergarten through third grade system were in the moderate to high range, so that was encouraging for the state leadership to have access to as well. They can ensure that kids have the experiences they need after pre-K to maintain the gains that they've invested in," says Hong. "We're excited that Georgia can have this report to point to as they talk about this investment in pre-K and show the program's benefits."
The team will now start procuring data for analysis for the children's fourth-grade year, and though these results are specific to Georgia's Pre-K Program, Soliday Hong says later work will examine how other states can use these results in their own early childhood education plans.
You can download the full report and/or a summary of the report.