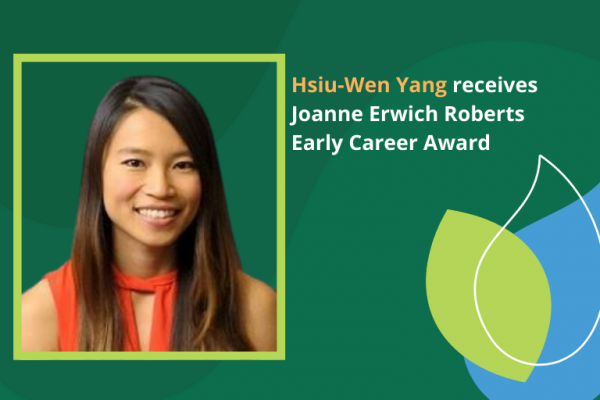 Hsiu-Wen Yang receives Joanne Erwich Roberts Early Career Award
During her three years as an occupational therapist for young children with disabilities, Hsiu-Wen Yang, PhD, wanted to increase her understanding of ways that she could support and engage the families in children's early learning. That desire motivated her to earn her PhD in early childhood special education and focus her work on bridging the gap between research and practice.
"While I was working in the field, I realized successful family engagement is more than just informing families about their children's progress, it is actively engaging and collaborating with the families in the decision-making process and helping families to create a learning environment at home," says Yang, a technical assistance specialist at the UNC Frank Porter Graham Child Development Institute (FPG). "I wanted to sharpen my skills in communicating with families about strategies and ways to engage their children in learning."
Stakeholder engagement plays a key role in fostering collaboration across research, policy, and practice within the early care and education system. Yang's research uses best practices from implementation science to improve family and child outcomes and focuses on engaging stakeholders in the research and knowledge translation process. She has collaborated on the development of a comprehensive motor curriculum with lessons incorporating universal design and learning strategies to support motor development, physical activity, and school readiness for all children in inclusive preschool classes.
During this project, she noticed families were interested in learning how to support their children's motor skills at home. To address these needs, she conducted a qualitative study to explore families' experiences in supporting gross motor skills for their children with disabilities. The findings were used to guide the development of the parent training and coaching program with an objective to enhance family capacity in implementing evidence-based practices to address their children's gross motor skills at home.
The lessons Yang has learned from her research motivated her to sharpen her skills in implementation science to find answers that directly benefit families and their children with disabilities. She will use the funds from her Joanne Erwich Roberts Early Career Award to support the development of her first Institute of Education Sciences (IES) proposal. This proposal will identify mechanisms that bring research, practice, and policy together to promote family engagement practices in children's social-emotional learning. The findings from this study could provide policymakers with relevant information on outlining steps for administrators and teacher preparation programs to prioritize family engagement in children's social-emotional learning.
The Joanne Erwich Roberts Early Career Award was established to support the early career development of researchers and honor Joanne Roberts, PhD, a distinguished researcher and professor with a long and dynamic career at UNC-Chapel Hill and FPG until her untimely death in 2008. With faculty appointments in the Division of Speech and Hearing Sciences and the Department of Pediatrics at the UNC School of Medicine, and actively involved in the Carolina Institute for Developmental Disabilities (CIDD), Dr. Roberts worked across disciplines and cared deeply about supporting researchers in their career development.
To honor her memory, loved ones established the Joanne Erwich Roberts Memorial Fund in 2009 to sponsor an annual early career award. Funds may be used to support the recipient's professional development, such as travel to meetings or conferences, registration for workshops or short courses to improve statistical or technical skills, annual membership dues in professional organizations, or other activities to enhance the individual's career.
In a letter of recommendation for the award, Megan Vinh, PhD, co-director at STEMIE—where she serves as Yang's supervisor—stated that she is confident that Yang will continue to be successful in the early intervention/early childhood special education field and will use what she learns on usability testing and participatory action research to obtain grants and conduct innovative research.
"Dr. Yang also has a deep sense of curiosity and excitement for learning. She proactively seeks out opportunities to enhance her research, knowledge, and skills through collaboration with others or professional learning opportunities. She is also actively developing and disseminating resources and sharing her knowledge and experiences with families and practitioners globally. I continue to be impressed by her commitment to research and improving the lives of children with disabilities and their families," wrote Vinh.
To strengthen her IES proposal, Yang wants to increase her knowledge and skills in both usability testing research and participatory action research. She will use the award funds to purchase related textbooks and attend related trainings. Earlier this month, she expended some of the award funds traveling to California where she attended the Conference on Research Innovations in Early Intervention. While there, she presented two poster sessions, expanded her professional network, and connected with researchers who are conducting participatory action research which she hopes will lead to future collaborations.
"I appreciate receiving this award," says Yang. "I think that it will give me more opportunities to explore different ways to conduct research and make sure that my research findings really engage the community and make an impact on the field."