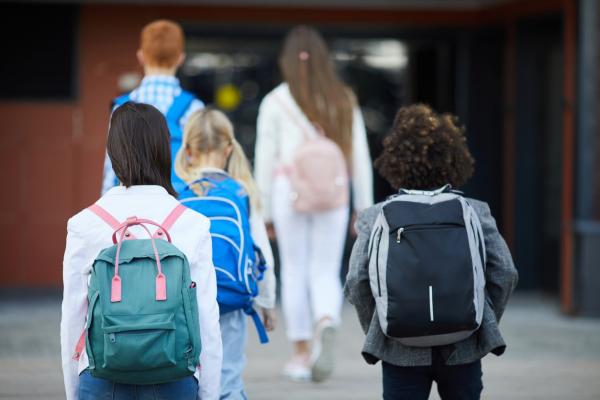 New publication: Supporting Adolescents with Autism in Secondary Schools
Published in December 2022, Supporting Adolescents with Autism in Secondary Schools offers an in-depth and practical look into the first research-based comprehensive program designed to support high school students with autism. Edited by Samuel L. Odom, PhD, senior research scientist at the UNC Frank Porter Graham Child Development Institute (FPG), the book was developed by researchers from the Center on Secondary Education for Students with Autism Spectrum Disorder (CSESA).
CSESA was a research and development center funded by the U. S. Department of Education's Institute of Education Sciences. Odom and FPG colleague and Faculty Fellow Kara Hume, PhD, were CSESA's principal investigators at FPG, and key collaborators included FPG Faculty Fellow Jessica Steinbrenner, PhD, Leann DaWalt, PhD, at University of Wisconsin, and Laura Hall, PhD, and Bonnie Kraemer, PhD at San Diego State University.
The book—designed for educators and practitioners who work with adolescents with autism—grew out of CSESA's development of a comprehensive school-based program for autistic high school students. Prior to this, few interventions were designed specifically for adolescents, with most focusing on autistic children in preschool and elementary school. Odom notes that adolescents with autism are a heterogenous group, with varying strengths and needs, and served in a variety of settings across the high school campus. The CSESA development team was committed to designing a program that could be useful for all high school students with autism, and thus created and adapted a variety of interventions and supports.
"The impact of this book will be on educators who are looking for ways that they can better understand and address the learning needs of students with autism in high schools and the learning outcomes for the students and their families," says Odom.
To develop the program, Odom and colleagues established novel supports and tools, used existing interventions, and adapted the work of researchers who had designed programs for adolescents with disabilities, but not specifically focused on autism. After a series of focus groups that included autistic adolescents, and pilot testing the interventions for a year in five high schools throughout the country, the team used information from the pilot to create a two-year program of implementation, which was evaluated in a randomized clinical trial. The published study (Hume et al., 2021) can be accessed here. Researchers found positive effects for students achieving their Individualized Education Plan (IEP) goals and learned that high schools using the CSESA program scored higher on measures of quality, especially in inclusive programs.
The program addresses four critical areas of growth for students: academics, with a specific focus on reading comprehension; post-high school transition preparation for students and their families, including vocational skills and/or post-secondary education; social competence with peers; and independence, focusing on self-management and interpersonal behavior. The CSESA program contains specific component interventions and practices that address each of these areas.
The CSESA model begins with a set of practices and activities, known as CSESA Foundations, that help teachers establish the foundation for an effective program for students with autism in a high school. This includes forming a team of school staff members, called the A-Team, that supports implementation. These team members received professional development related to understanding autism, the CSESA program, and ongoing coaching support from the CSESA staff. The next step is assessment of the school program environment and of individual students to provide the needed information necessary to plan, improve program quality, and design measurable and observable student goals. Student goals guide the choice about the interventions in which individual students will participate. The final step is examining outcomes for individual students on their goal attainment and on the school's program development.
The book gathers these lessons, which can also be found on the CSESA website, and provides a collection of implementation supports for each component. This includes intervention guidelines, case vignettes, key findings, lessons learned, and reproducible forms that can be copied from the book as well as downloaded and printed from the CSESA website.
Odom and team believe the book addresses a void in the professional development and program practice literatures, noting that there had not been procedural information focusing specifically on high school programs for autistic students published in nearly a decade. "The impact of this book will be on educators who are looking for ways that they can better understand and address the learning needs of students with autism in high schools and the learning outcomes for the students and their families," says Odom. "This program—which was informed by teachers, family members and autistic students, and studied using the largest randomized clinical trial in high schools with students with autism—is unique. And it's exciting to create a program and a book that addresses an unmet need."