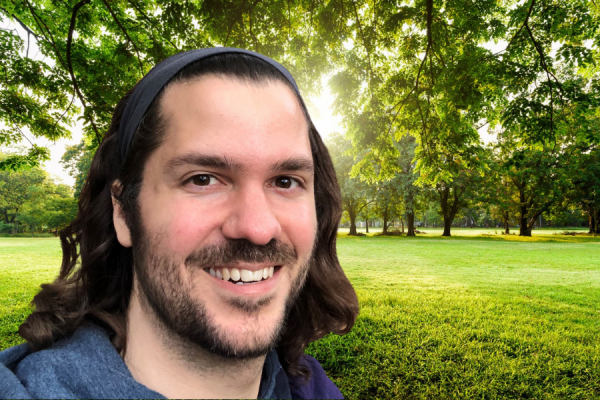 Pivoting to meet the moment of COVID-19
When COVID-19 paused some in-person projects for investigators at the UNC Frank Porter Graham Child Development Institute (FPG), they were able to learn new skills to meet urgent needs of the pandemic in ways that connected with FPG's mission to support children and families.
FPG's Data Management and Analysis Core (DMAC) partnered with the UNC Gillings School of Global Public Health to provide data management for their COVID-19 Dashboard, which opened the door for David Bogojevich, MEd, a social research assistant at FPG, to revisit a childhood hobby in computer science.
With the pre-K evaluations at the center of Bogojevich's role at FPG on hold, DMAC Director Sabrina Zadrozny, PhD, offered him a place on the DMAC team, where she was providing epidemiologic support, data management, and data analysis for the Gillings COVID-19 Dashboard.
"I'd always loved web design, coding, and computer science when I was younger, and I knew I'd like to get back to it one day, but I wasn't sure how," says Bogojevich. "Jumping into this new role was certainly nerve-wracking at first, but I was also so grateful to find a way to make a real difference right now."
Bogojevich immersed himself in learning R, a programming language for computing, data management, analysis, and graphics. With this language, he worked with epidemiologists from the Gillings School to convert the code for their tools into three web-based apps for the dashboard, which are used to help researchers, policymakers, and others make evidence-based decisions to navigate the pandemic:
COVID-19 Testing: Pooling Calculator - This app helps researchers decide which pooling strategies will be most effective based on the COVID-19 conditions in their area and the variety of tests available to enhance the efficiency and accuracy of tests without dramatically reducing test sensitivity.
Calculator to account for test accuracy when estimating SARS Cov-2 prevalence - This app is a tool for re-calculating the prevalence of SARS-CoV-2 in studies based on the accuracy of the test used. It helps inform the true prevalence of SARS-CoV-2 and informs how the accuracy of SARS-CoV-2 tests affects our understanding of the prevalence of SARS-CoV-2 in different communities.
Calculator to Improve Testing Yield - This app is a tool for identifying groups of people who are likely to be infected with SARS-CoV-2 and can be used to inform the development of efficient testing strategies, as well as help researchers more efficiently recruit people with SARS-CoV-2 for studies.
With a background in education policy, Bogojevich was drawn to the project by how this dashboard could be used by researchers, policymakers, and other stakeholders to make decisions that truly impact children and families as individuals and systems determine the best and safest ways to navigate the pandemic. His goal was to create user-friendly, visually pleasing apps that would allow them to see the data in different ways and plan for a variety of situations.
"There are people who are working very hard to figure out what's happening in schools with kids. How can we improve their experiences, and how does policy interact with that?" says Bogojevich. "This is a real-life example of the ways that policies have an immediate and profound impact on the lives of children, families, and communities. I was really excited to get an opportunity to do that with this project because this is so applicable to the world we're all working in."