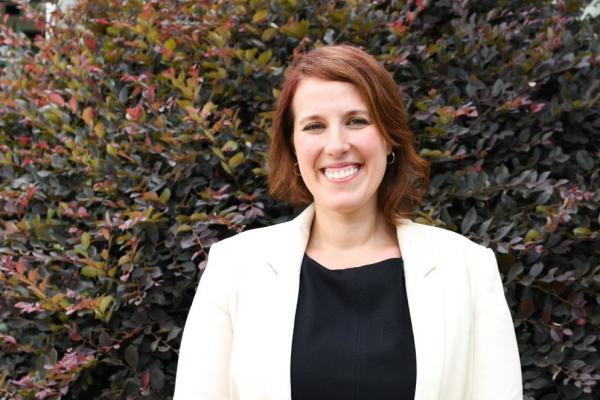 Q&A With Julie Austen, PhD
Julie Austen, PhD, is an implementation specialist at the UNC Frank Porter Graham Child Development Institute and a clinical health psychologist by training. Originally from Pittsburgh, Pennsylvania, Austen says that the nontraditional path she found herself on—through lived experience, education, clinical practice, immersion in rural health, and, now, implementation science at a major research institution like UNC-Chapel Hill—informs her whole-hearted dedication to the kinds of systems-level change and capacity building that advances the quality of life for all children.
What was your path to FPG?
I'm originally from Pittsburgh. I graduated high school from an alternative, rehabilitative school for at-risk youth after I initially dropped out of high school in ninth grade. From there, I went to community college, and then transferred to Chatham College for Women, where I was a first-generation college student, before coming to East Carolina University. In between undergrad and graduate school, I managed research projects at Carnegie Mellon University and University of Pittsburgh—projects that focused on understanding the cognition of informed consent in clinical trials, how stress impacts the body, and cognitive development in children. I had to work exceptionally hard to compete with my very well-resourced and well-educated peers in the doctoral program pool and was so proud to earn a spot at ECU's newly established health psychology doctoral program. There, I earned my master's degree in school psychology and my doctorate in health psychology, with an emphasis on pediatric school psychology.
ECU focuses on training professionals who will continue to work in rural or traditionally underserved areas. It was there that I began to see how challenging it can be for children to access quality services. This might not be the way that, typically, those with four degrees start out, but my background is so important for me to share with others. I'm a living example that there's not just one way to get here. I want people to know—you can get to where you need to be, and you deserve to be there.
How does your background influence how you see your work?
I came from an impoverished family, and many of my needs were met because I lived in a big city that had a lot of services. There was public transportation to get places, and these services were well-advertised and easily accessible. While working on my master's degree at ECU, I was doing my practicum in rural, Eastern NC, and I realized that so many of these children didn't have access to so many things, like a school psychologist to appropriately identify their educational and social-emotional needs. These children are invisible. I made it my mission to be part of the solution. As a health psychologist, I worked in integrated health care at rural federally qualified health centers, safety net clinics for folks with Medicaid or no insurance. In an integrated care model, when children went to their family medical practitioner, they might also see me, where I would provide interventions on a range of issues from acute trauma to developmental issues (like bedwetting), or health concerns (like obesity) or mental health concerns (like anxiety or acute stress/trauma) among so many others. Health psychologists apply a biopsychosocial lens to medical care—we understood that mental health was not separate from physical health. Not only did so many of our patients have their very first therapy experience in our offices, offering mental health services was a training for the medical practitioners, too. I was coaching them to have better relationships with their patients and to understand how social-emotional concerns were impacting medical treatment plans. In seeing families, I saw a lot of multigenerational trauma, and with my own developmental trauma experiences, I was already acutely aware of how those cycles can play out. I created workflows, identified funding mechanisms, and tailored evidence-based models so that we could treat mamas and kiddos together, helping them understand each other. However, although these programs showed promise and were generally well-liked, they weren't sustainable, and I was getting burned out treating diseases of despair in rural NC.
The breadth of experiences I had helped me figure out where I could really make an impact—we need to build capacity within our systems themselves. I came to FPG to learn about implementation science and saw that implementation scientists have their finger on the pulse of systems issues. I'd been in schools and clinics for 10 years, and I knew the trends. Getting into the research and implementation science worlds was one way that I could begin to make this better for our state long-term in ways that I know will sustainably provide mental health for North Carolinians.
How has your work at FPG helped you fulfill your mission to be part of the solution?
FPG has been an important career change for me. At FPG, I'm part of something that builds systems and solves problems from multiple levels. I've been a part of broken systems, and I still didn't realize at the time how pervasive the challenges can be in trying to build and change systems in ways that truly support our most vulnerable. How do you prevent these things from happening in the first place? How do we implement policies that help from a higher level? How do we improve what we have? How do we put the people we serve first in everything? FPG is bringing all these pieces together in a way that makes me really proud to be part of it.
I have so much passion for the work we do and so much passion for our kids and families. I've been able to lead systems level interventions, working with Implementation Capacity for Triple P in South Carolina and standing alongside a community as they became stronger at the systems level from the ground up. I've been working with Robin Jenkins on how psychiatric residential treatment facilities can build their capacity to eliminate the use of restraint as a treatment tool. This is an interesting and relevant project right now as we see this reflected in recent events, such as George Floyd's death while being restrained. Through this project, I am eager to see how we can lift the voices of the youth and families served by these agencies as a major lever for systems level change, and then help implement those changes at the agency, community, and state levels.
What are some of your goals and plans looking forward?
I'd like to study and develop deeper and broader intra-systems interventions that can help people get access to health care that includes quality mental health care, prevention, and multigenerational supports, like parenting programs, in intentional ways that keep families from falling through the cracks. I am interested in linking up with other researchers at FPG who are passionate about community-owned programs, co-creating systems changes with youth as the leaders, and increasing sustainable access to such programs. I love that, at FPG, we are working as a team, creating something together that is so much better than what any of us could have done on our own. We have so many brilliant people that come from such different backgrounds and have such different expertise in so many areas. This is how we work—and we know how to get it done!
My goal, always, is to be a servant for the people of North Carolina who brought me to and paid for my education at ECU—I owe them.