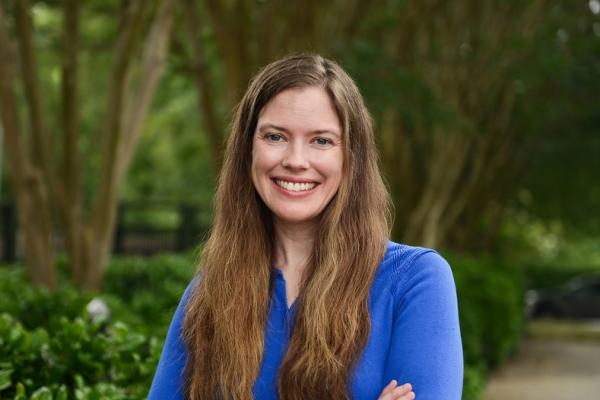 Research and Evaluation Division welcomes new lead
On July 1, Ann Sam, PhD, became the lead of the Research and Evaluation Division at the UNC Frank Porter Graham Child Development Institute (FPG). Sam, an advanced research scientist, focuses her work on increasing awareness and use of evidence-based practices and interventions designed to improve outcomes for students with autism. She is excited about the future of the division, which is committed to conducting research and evaluation studies that improve children's lives, support families, and inform public policy.
Sam defines the division's goal as having a clear understanding of the practices, interventions,  and programs that are effective for children while also understanding the conditions in which those interventions and programs work, as well as for whom they are effective. Sam is committed to including diverse sample populations and ensuring that researchers discuss the effectiveness of their findings for all groups.
"Research is critical because we want to use interventions and programs that we know really work and for whom they work," says Sam. "Research is a critical first steps in making big changes in the lives of children and families before we move into implementation, scaling up, and technical assistance. Evaluation projects are important to determine how well models and programs are working and the impact they have in schools and communities."
Moving forward, Sam plans to think more broadly and strategically about collaborations within the FPG Research and Evaluation Division as well as among FPG's other divisions, with the goal of working together to have a broader impact and better outcomes for children and their families. She intends to collaborate with her fellow leads—Caryn Ward, PhD in Implementation Science, Sherri Britt Williams, MPH, in Technical Assistance, and Sandra Soliday Hong, PhD, in Policy—to foster connections among the members of their divisions, working as matchmakers for FPG investigators and researchers.
Sam credits her predecessor, Noreen Yazejian, PhD, the previous research and evaluation division lead, for doing a wonderful job communicating information throughout the division and bringing its individuals together as a team, which Sam plans to continue.
Sam's own work is collaborative, including a recently funded project with FPG senior research scientist Sam Odom, PhD, FPG faculty fellows Stephanie Reszka, PhD, and Brianne Tomaszewski, PhD, and FPG advanced research scientist Ximena Franco-Jenkins, PhD. This project will revise a measure for social competence for preschoolers, with the goal to have the final measure used by teachers to identify children who may need additional support to engage with peers and monitor progress when supports are provided.
The Research and Evaluation Division receives funding through various federal and state sources and foundations including the Institute of Education Sciences, the National Institute of Health, and foundations such as the Buffet Early Childhood Fund, George Kaiser Family Foundation, and Bill and Melinda Gates Foundation. Writing proposals for multiple funders can be a challenge, but Sam notes the support colleagues provide one another. For example, the U.S. Department of Education recently issued a request for applications. Division members planning to submit proposals will meet weekly as a group to discuss specific aspects of the requests and receive feedback from colleagues on sections of draft proposals. Sam notes this support among colleagues is critical in developing the most competitive proposals and also assisting early career researchers who are new to this process.
Supporting her colleagues, particularly those in the early stages of their career, is a full circle moment for Sam who says that she feels like she has grown up with FPG. She completed her undergraduate studies at UNC in 2005, student taught at FPG's former childcare center, which closed in 2013, and worked at FPG as a research assistant while earning her PhD. After doing her postdoctoral work at 3C Institute, Sam returned to FPG in 2014.
"I've been supported by the research and evaluation team through mentoring initiatives and supports for early career and mid-career researchers," says Sam. "I look back at everyone who has helped me get to where I am today and all the wonderful mentors that I've had and know that it's because of FPG that I'm in this position. I'm really excited that I can facilitate collaborations among our research team to reach our goal of improving the lives of children and families."