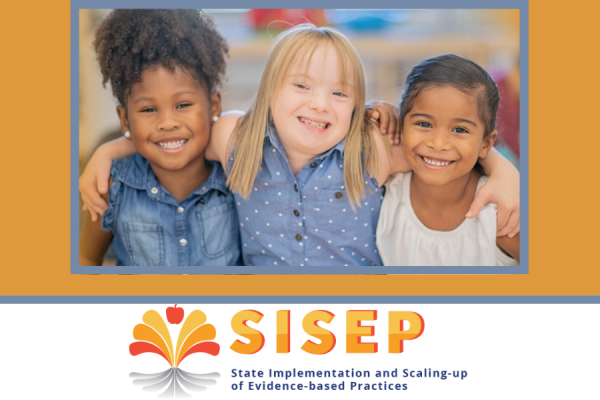 SISEP receives fourth round of OSEP funding
Thanks to a new five-year grant from the U.S. Department of Education's Office of Special Education Programs (OSEP), a group of researchers at the UNC Frank Porter Graham Child Development Institute (FPG) is expanding its work to support implementation of instructional and leadership practices that lead to improved outcomes for students with disabilities. The OSEP funding of $1.2M per year, beginning September 30, 2022, was awarded to the State Implementation and Scaling-up of Evidence-based Practices (SISEP) Center—a project within the National Implementation Research Network (NIRN) at FPG.
This is the fourth round of funding awarded by OSEP to SISEP for its role as a national technical assistance center. The funding will enable the ongoing evolution of SISEP services and resources so that the center can continue to support states and their communities in attaining socially significant outcomes for students with disabilities and their families. "In this iteration of SISEP, we will continue to build on what we have learned from previous funding cycles," says Sophia Farmer, MT, co-director of SISEP. "Using the capacity we have built, we hope to continue partnering with our states to collaborate on the development of our new priorities."
 
Implementation science—which provides strategies, methods, and tools to support the uptake, adoption, and use of evidence-based practices and programs so that intended outcomes can be actualized—is at the heart of the work done by SISEP. By using implementation science, the FPG team ensures that the educators and staff with whom they work have the right supports needed to support their confidence and competency in using high-quality instructional practices.
 
The center will continue to work intensively with Florida, Virginia and New Jersey, the states that most recently partnered with SISEP. Going forward, five states—which have not yet been selected—will be added to the portfolio. As part of a stage-based approach, the FPG team will conduct a Community of Practice (CoP) for states interested in learning more about implementation science. Those intrigued by the potential of this work will engage in an exploration process to determine the fit and feasibility of a supportive, sustained partnership.
 
As the SISEP center develops new partnerships, the team will continue to explore ways to support the ongoing efforts of current state partners—Michigan, Colorado, Kentucky, Minnesota, and Wisconsin—with which they have built deep and lasting relationships.
 
The plan is to create communities of learners and practitioners in implementation science and research in partnership with institutes of higher education with OSEP-funded doctoral leadership programs, state departments of education that house an OSEP-funded state leadership program, and other OSEP-funded technical assistance centers. SISEP leaders also hope to collaborate with institutes of higher education to embed implementation science practices in preparation programs for future educators. By sharing resources and tools for professionals within institutes of higher education to use in their courses, SISEP can help ensure that educators begin their work equipped with critical knowledge.
 
As part of SISEP's commitment to increasing the use of implementation practices by the education workforce as a whole—and specifically to increase the number and diversity of implementation science practitioners in the field—the team is offering a micro-credentialing program. The program will offer a blended learning strategy consisting of asynchronous online learning, social networking opportunities, and the provision of consultation and coaching support. Participants will be able to progress through a series of levels from general awareness of implementation research and practice to full application of the competencies as an implementation support provider.
 
"It is really important to us at SISEP that when we award a micro-credential or 'badge' that we have evidence of mastery of the knowledge and skills―that it means something ―and the field can trust that candidates have been well supported in their growth as change agents," says Farmer. In addition to relying on its in-house expertise, NIRN is collaborating with two agencies that are leaders in their fields: the University of Washington SMART (School Mental Health Assessment, Research and Training) Center and the National Institutes for Historically-Underserved Students to round out the SISEP team.
 
The SMART Center shares NIRN's commitment to improve student behavioral and academic outcomes through implementation of evidence-based practices. The partnership with the Institutes will ensure that SISEP is centering equity in both the micro credentialing process and in expanding the accessibility and reach of implementation science to a more diverse population.
 
The focus is on creating capacity within the education system as a whole as well as increasing learning opportunities for professional development of implementation specialists. The demand and use of implementation practices and tools has grown significantly over the past 15 years.
"We now need to attend to developing and expanding the workforce to be able to meet this demand and do so with high quality," says FPG Implementation Division Lead Caryn Ward, PhD, who directs NIRN and co-leads the SISEP center. "The development of a micro-credentialing program will help grow the workforce to meet this need and continue the capacity development of our state and local education agencies. This will enable them to use best practices in implementation to support the uptake of evidence-based programs so that ultimately we are improving the academic and socio-emotional well-being of our students with disabilities."