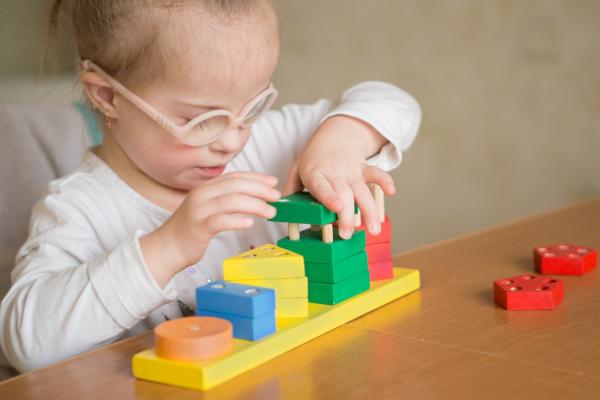 Yang and Lim highlight importance of STEM learning for infants and toddlers
Science, technology (computational thinking), engineering, and mathematics (STEM) are critical for all learners, including infants and toddlers, and children with disabilities. The STEM Innovation for Inclusion in Early Education (STEMIE), a national center at the UNC Frank Porter Graham Child Development Institute (FPG), is dedicated to encouraging early childhood education providers, practitioners, and families to embed STEM concepts and learning opportunities into the daily routines and activities of all children.
 
The December 2022 issue of Young Exceptional Children features the article, "Supporting STEM Learning Within Routines for Infants and Toddlers with Developmental Delays," written by FPG Technical Assistance Specialist Hsiu-Wen Yang, PhD, and STEMIE Co-director Chih-Ing Lim, PhD. Their co-author is Philippa H. Campbell, Ph.D., professor emeritus at Thomas Jefferson University, who has been principal investigator for numerous federally funded research projects focusing on the use of adaptations and assistive technology (AT) for infants, toddlers, and preschoolers.
In the article, the scholars describe STEM learning for infants and toddlers, include examples of STEM learning opportunities for infants and toddlers within their daily lives, and share a coaching framework to help early intervention providers support families in embedding STEM learning opportunities at home. While early intervention practitioners are the primary audience for the article, its impact will be felt among a wide variety of stakeholders. Young children in early education, family members and their charges, child care providers as well as early education teachers will benefit from the knowledge shared in the piece.
"One of our main goals with this article is raising awareness about the importance of including young children with disabilities in STEM learning opportunities early on," says Yang. "We want to provide resources to support early intervention professionals and others who work with infants and toddlers with developmental delays so that they can make a significant impact on the lives of young children and their families."
"One of our main goals with this article is raising awareness about the importance of including young children with disabilities in STEM learning opportunities early on," says Yang. "We want to provide resources to support early intervention professionals and others who work with infants and toddlers with developmental delays so that they can make a significant impact on the lives of young children and their families."
To ensure that practitioners have the knowledge to embed these ways of learning in their work, the authors include real-life examples and vignettes, providing a model for caregivers. The article outlines a framework to embed STEM learning opportunities within daily routines, which starts with identifying children's strengths and interests and includes:
•    individualizing instructional strategies;
•    identifying preferred family routines;
•    integrating STEM learning into IFSP (individualized family service plan) goals; and
•    adapting environment, activities, materials, and instruction.
 
One vignette includes a caregiver narrating an activity they are doing with a child by describing actions and introducing STEM concepts: "You are hitting the water hard to splash the water really HIGH!" and "Look! Mommy is POURING water into a cup!" The authors also show how caregivers can create opportunities for children to use thinking skills to solve problems using open-ended questions, such as, "I wonder what would happen if you used your feet to kick and splash?"
"Our work is to plant a seed in people's heads so that they make small improvements to their practices to incorporate STEM learning and also support children in reaching IFSP [individualized family service plan] goals," says Lim. "These little changes will help children develop the thinking skills that are so critical to future success and readiness in school and life."
Since caregivers and practitioners often do not think about STEM for babies and toddlers, the researchers offer examples of STEM skills development for this age so that caregivers can be attuned to supporting young children's learning. "Our work is to plant a seed in people's heads so that they make small improvements to their practices to incorporate STEM learning and also support children in reaching IFSP [individualized family service plan] goals," says Lim. "These little changes will help children develop the thinking skills that are so critical to future success and readiness in school and life."