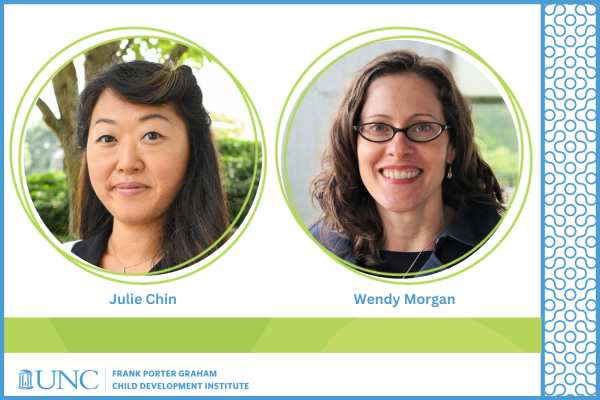 Creating exceptional learning experiences through thoughtful strategy and intentional design
The UNC Frank Porter Graham Child Development Institute (FPG) is not only a leader in research, policy, and practice but an innovator in creating technological solutions to disseminate implementation science. FPG's Julie Chin and Wendy Morgan, PhD, are at the forefront of this work.
 
Morgan, a learning and development senior strategist, works to develop learning experiences that provide professional development and technical assistance. After joining FPG in 2016, Morgan championed the Institute's innovative learning ecosystem, which supported the ability to collect customized and meaningful xAPI (Experience API) learner activity data from learning objects across project websites. Today, with the goal of creating the best strategy for each project, Morgan develops e-learning as well as blended learning strategies. Blended strategies have typically featured e-learning pre-work, which reports activity data that directs follow-up support that is tailored to the needs of each learner.
Morgan has also contributed her blended learning strategies to the micro-credentialing program offered by the State Implementation and Scaling-up of Evidence-based Practices (SISEP) Center, a project within FPG's National Implementation Research Network (NIRN). The micro-credentialing program, designed to deepen implementation support practitioners' knowledge and application of implementation research and practice, offers asynchronous online learning, social networking opportunities, and the provision of consultation and coaching support. In fact, within SISEP's micro-credentialing program, there is a blended learning strategy within the larger blended learning strategy lesson: web-based lessons on topics ranging from power differentials to co-learning generate learner activity data that informs the social networking and coaching elements of the program.
 
Morgan describes the eLearning development process as iterative and collaborative. She works with each team to determine objectives and the learner experiences that will most reliably lead to the desired results, as well as how best to measure those learning experiences. Her instructional design team creates the prototype. And through review of this prototype and successive iterations, the client team shares input that is incorporated into the final version.  
Working with FPG Senior Research Scientist Ann Sam, PhD, and the Classroom Pivotal Response (CPRT) team at San Diego State University, Morgan has designed a blended learning strategy supporting teachers working with students with autism. In addition to providing online lessons and resources, the program uses the learner activity data collected from the online lessons to generate a coaching report. This tool helps the CPRT coaches, who work individually with these teachers, better understand each educator's strengths and weaknesses so the work can be specifically tailored to their needs.
 
Morgan's work is customizable to each project and offers researchers the ability to gather learner activity data to understand the behaviors in which learners are engaging between their pre- and post-test scores. This enables investigators to better understand which activities are correlated with changes, making it easier to iteratively develop lessons to focus on the activities making the biggest difference.
 
Morgan, whose extensive and diverse background includes graphic design, writing, and research, delights in bringing concepts and practices that work to people in the field. "I enjoy designing learner experiences and being part of implementation practices that help people sustainably scale up programs," she says. "My work is very practical and helps ensure that innovations get to the people who need them."
 "I enjoy designing learner experiences and being part of implementation practices that help people sustainably scale up programs," says Morgan. "My work is very practical and helps ensure that innovations get to the people who need them."
Chin supports her FPG colleagues' visual design needs, working as a design strategy and technology specialist.  By carefully curating the look and feel of the learning environment and through an intentional visual design of space, layout, colors, and graphic elements, Chin creates patterns and connections to make content engaging and understandable for the context of learning. She works closely with Morgan and teams on storyboarding, prototyping, testing, and iterative design, to collaboratively improve the learning environment and ensure the visual design supports the learning objectives and aligns with the intended learning outcome.
Chin's experience designing across multiple platforms informs her work with investigators.  After gaining an understanding of their project needs, audience, goals, and objectives, she can guide them to the most effective medium for disseminating their content, which might be a newsletter template, branded video frame, icons, or even more custom work, such as a brand identity package.  For example, when working with learning modules, Chin might create personalized reports generated from the module's data or help produce didactic videos.   
While the media and audiences vary, Chin always focuses on the same result: providing users with the best experience and facilitating their learning. She cites her work for The Impact Center at FPG's Implementation Capacity for Triple P (ICTP) projects as an achievement of which she is proud. When Chin joined FPG in 2017, Morgan had just created module one for ICTP's simulation lab for implementation specialists working on the evidence-based Triple P-Positive Parenting Program system of interventions. Chin is currently completing module 10, the final module in the simulation known as Grand County. In this fictional community, Triple P practitioners can experience the steps they would actually take on the ground but have the opportunity to practice in a safe environment with colleagues, before actual implementation.
"What I have learned over the years, in terms of designing for emerging technologies, reach, and accessibility, is that it is always evolving," says Chin.  "It's an exciting time where fresh ideas and ways to increase participation, engagement―and even joy―are emerging and it's so important to continue to learn and adapt to ensure that your content and designs remain functional, relevant, and accessible."
To complement her background in web design and interactive media, Chin is currently enrolled in UNC's master's program in Educational Innovation, Technology, and Entrepreneurship (MEITE), where she is strengthening her knowledge and skills in instructional design, adaptive learning, and learning analytics. As she continues learning and adapting to emerging technologies, she applies what she learns into practice at FPG.
For the STEM Innovation for Inclusion in Early Education Center (STEMIE), whose audience includes young children with neurodiverse backgrounds and providers working with younger children, Chin worked on the brand and visual elements for their website, promotional materials, and videos, employing bright colors, playful illustrations, and lively fonts. Currently, she is working with the STEMIE team on creating bite-sized, micro lessons to support early educators working in STEM for inclusion. "I love how their team has deployed my designs beyond the website, using them to create social media, publications, and handouts," Chin shares.  "My next goal is to work with projects on providing customizable and adaptable design systems to maximize time and reach."
Chin acknowledges the importance of being agile in her work, "What I have learned over the years, in terms of designing for emerging technologies, reach, and accessibility, is that it is always evolving," says Chin.  "It's an exciting time where fresh ideas and ways to increase participation, engagement―and even joy―are emerging and it's so important to continue to learn and adapt to ensure that your content and designs remain functional, relevant, and accessible "