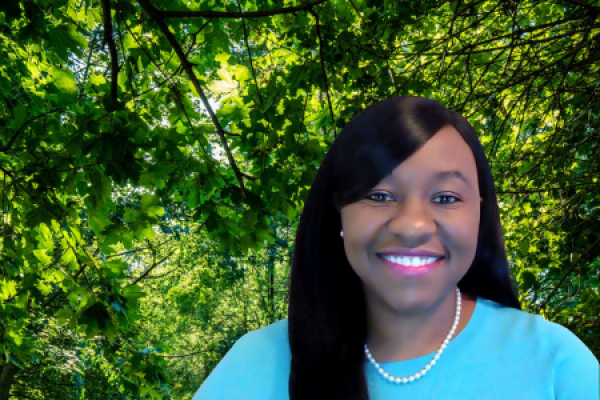 EDI Office expands, names Morgan assistant director
Jenille Adams Morgan, MA, a longtime research specialist with the UNC Frank Porter Graham Child Development Institute, has been named its assistant director of equity, diversity, and inclusion in an expansion of the Equity, Diversity, and Inclusion Office at FPG.
"This will be my 14th year here at FPG, and from the beginning, I've been committed to using my expertise to advance research and knowledge around racial equity, as well as support others in their efforts to achieve these goals in their work," says Morgan. "Now that we have a more formal infrastructure for this kind of work at FPG, we can show how the Institute is prioritizing racial equity and keep it moving in the right direction."
Morgan's passion and interest in issues surrounding race, ethnicity, and diversity were sparked early on and inspired by the rich and diverse culture of her hometown, Durham, NC. She graduated from the North Carolina School of Science and Math before receiving her bachelor's degree in psychology, with a minor in math, from Howard University, and a master's degree in developmental psychology at Duke University.
"As a proud HBCU alumna, I credit my time at Howard with equipping me with a critical lens through which to examine the impacts of race, socioeconomic status, and ethnicity, and their impact on a variety of research areas across the lifespan."
She continued this work at Duke, studying the African American family in an historical context. She was then recruited to FPG where she has worked on multiple projects, including longitudinal studies tracking Black youth from kindergarten all the way to early college, and helped lead FPG's award-winning RACE committee, combining her dedication to helping all children fulfill their potential with her passion for racial equity.
Betsy Clifton Ayankoya, MEd, became FPG's first equity, diversity, and inclusion officer in September 2018 as part of a new strategic plan. In order to continue to build on the work of that plan, she knew a formal structure was necessary to sustain progress.
"We needed an internal infrastructure for this office. This is not just my work – this is FPG's work. We needed more bandwidth as an office, and to become a true department at FPG," says Ayankoya.
FPG Director Ayse Belger, PhD, agreed. As part of the EDI office's expanded structure, Ayankoya became the office's director, with Morgan now joining her as the assistant director.
"I've come full circle now where I'm able to really do this work in a more formal capacity, and I'm just really thrilled that FPG is creating this infrastructure and prioritizing equity because it is so important," says Morgan.
In Morgan's work in the Research and Evaluation Division, and with more than 20 years of experience in research, she's learned the importance of working as a cohesive team where each person's expertise benefits the whole of a project. Equity work must be the same way, she says. As the larger community at FPG took notice of the national racial reckoning that intensified in the summer of 2020, there has been a greater sense of urgency about the importance of equity.
"We see our colleagues making efforts to ensure projects have a culture that supports diversity and advances equity and inclusivity. We see a desire to spread this work beyond individual projects to FPG as a whole so that the culture reflects the values that are in the strategic plan," she says. "Everyone should be vested in this work, and we are co-creating it together."
In line with creating a culture that is welcoming and transparent, the EDI Office is conducting a needs assessment to collect information on the needs and experiences of individuals and of projects. It's easy at FPG for individuals to become siloed in their projects, Morgan says, especially during a time when the entire community is working in a socially distant way.
"We want to get our finger on the pulse of the equity work that is happening across different projects so that we can get a broad sense of efforts across FPG and share knowledge with each other in the spirit of community," says Morgan. "We want to advance the work together and not reinvent the wheel when a project is doing something that is working really well."
In addition to the needs assessment and the continued work the office is doing to collaborate with individuals and projects, this year will include an expansion of the Marvin H. McKinney Scholars Program in Research, Practice, and Policy, increasing from two to four HBCU students in Summer 2021. Ayankoya says the office is also committed to developing a post-baccalaureate fellowship to bring recent HBCU graduates on staff at FPG to gain experience in child development in all areas – implementation science, technical assistance, research and evaluation, and more – as they explore careers or graduate work.
"We need to see equity as a systemic and structural issue and work from that place. Not only do we think about equity as it impacts us as individuals, but also in terms of how it impacts who we are as a community, our study participants, and the work we all do," says Ayankoya. "We're asking, 'Who is FPG going to be for the next 50 years?'"