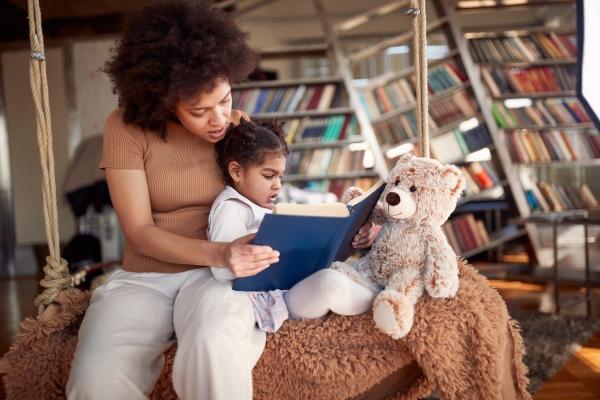 New collaboration helps engage young children with visual impairments in storybook conversations
A collaboration between the STEM Innovation for Inclusion in Early Education (STEMIE) Center, the Kansas Deaf-Blind Project, and the Kansas State School for the Blind has resulted in the development of two video demonstrations on engaging young children with visual impairments in storybook conversations.
 
This partnership was sparked by a poster board shared by STEMIE leaders at the 2019 leadership conference hosted by the U.S. Department of Education's Office of Special Education Programs. Marites Altuna, MS, director of the Kansas Deaf-Blind Project, was intrigued by the poster and STEMIE's commitment to making STEM accessible to young children with disabilities. Wanting to connect with STEMIE—a program of the UNC Frank Porter Graham Child Development Institute (FPG)—Altuna attended STEMIEFest and began a conversation about collaborating with Megan E. Vinh, PhD, and Chih-Ing Lim, PhD, who serve as co-directors of STEMIE and are FPG senior technical assistance specialists.
The first video produced in this collaboration offers a look at how to prepare children for a shared book reading experience using the book Rosie's Walk (2022) by Pat Hutchins. The book was selected as it explicitly introduces spatial and positional concepts as well as cause and effect, and offers many other opportunities for STEM talk. Employing strategies to engage children who are deaf-blind, blind, or have visual impairments so that they can have a tactile experience of items mentioned in the story, this method also provides a great way for sighted children to learn.
The video, designed for early childhood and early childhood special education practitioners and family members, suggests adaptations in environment, materials, and instruction to support children in comprehending the book. By walking children through the story before reading it, the caregiver can help young children become familiar with the content and novel words. Creating a story box containing feathers to represent the Rosie's Walk character of a chicken, a small tub of water for the pond, and bundles of straw for the haystack in the story allows children to explore textures using different senses and participate in the experience.
The project is unique as it marries an evidence-based practice called dialogic reading—which has shown efficacy in improving oral language skills and other literacy skills for kids with and without disabilities—with STEM concepts. In developing the video, STEMIE focused on the adaptations that caregivers need to make while Altuna's team developed the story box with objects from the tale. These objects help build background knowledge for students who may have hearing and vision loss, as well as for sighted and hearing children.
 
"These practices allow access for children with visual impairments or combined hearing and vision loss to participate fully in these opportunities," says Hsiu-Wen Yang, PhD, an FPG technical assistance specialist who works with STEMIE. "At the same time, it's very effective for all children who might need to touch fur to understand how a fox's tail feels."
 
Along with the video, a tip sheet offers specific question prompts, related activities, and adaptations that caregivers can use for Rosie's Walk. One way the tip sheet suggests bringing STEM skills into the reading experience is by going for a walk and doing a nature scavenger hunt. After collecting several items, such as leaves, flowers, and rocks, the caregiver and child can retell the order in which they found the items, a great way for young children to practice sequencing, a core STEM concept.
 
The second video focuses on helping children expand their learning about STEM concepts and ask more questions about the content during storybook reading. Both videos are being audio described to make them even more accessible for family members and practitioners who are blind or have visual impairments. "I'm really excited about this because we are always striving to be better at ensuring that our products are more accessible," says Lim.
 
She adds that the partnership has helped STEMIE grow and learn. By partnering with the Kansas Deaf-Blind Project and the Kansas State School for the Blind, with its expertise in working with children who are deaf-blind, blind, or visually impaired, STEMIE has produced a stronger product. Altuna says that the work will have greater impact because of her group's connection with STEMIE, thanks to its larger audience.
 
Altuna passionately believes in STEMIE's work. "When early childhood practitioners and young children can access content presented by teachers, that's success because that's what inclusion is all about," she says. "Without access, there's no inclusion―and this partnership is providing access. I love that STEMIE includes very young people into the STEM landscape."