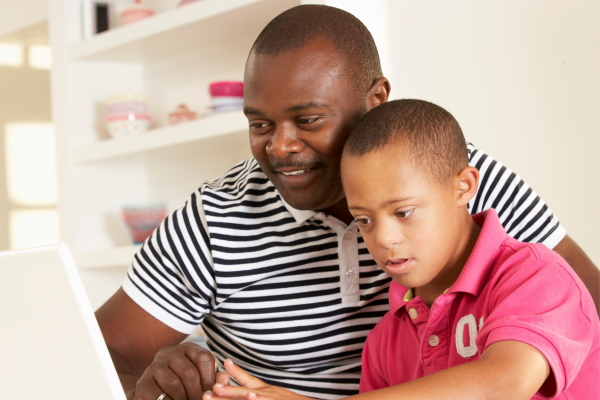 Upcoming International Early Childhood Inclusion Institute will be a hybrid event
The International Early Childhood Inclusion Institute, hosted by the UNC Frank Porter Graham Child Development Institute (FPG), invites everyone involved in the care and education of young children with disabilities in inclusive settings to its upcoming annual conference. The event, being held April 26 – 28, will be hybrid, with both in-person and online components. UNC's Friday Conference Center in Chapel Hill provides the setting for the in-person event, limited to 250 people to facilitate social distancing.
Last year's virtual conference showed organizers the power of a virtual event to bring together attendees and presenters from around the world. That roadmap led to this year's event, which offers attendees the best of both worlds: sessions presented either virtually or in person, with the in-person events recorded and broadcast via Zoom.
"We hope to validate the great work that's being done around early childhood inclusion while also prompting a look to the future," says Catasha A. Williams, MEd, FPG Technical Assistance Specialist and co-chair of the Inclusion Institute. "It's important that those involved in the care and education of young children with disabilities see themselves as change agents."
For more than 21 years, the Institute has offered attendees opportunities to learn about the latest research findings, models, and resources that guide inclusive policy, professional development, and practice; develop collaborative relationships and cross-agency systems that support early childhood inclusion; and to have the opportunity to meet, learn from, and problem-solve with peers. "The Inclusion Institute presents a rare opportunity for EVERYONE involved in inclusion, from teachers and practitioners, to therapists, administrators and federal policy makers to learn from each other and to share successes, challenges, and next steps," says Tracey A. West, PhD, former chair of the Inclusion Institute and FPG TA Specialist.
This year's theme, "We're In This Together: Caring for One Another in Difficult Times," reflects the acknowledgement by the Institute's organizers of the challenges faced by those working in the early childhood field and the desire to provide these professionals with resources. "We are striving to make the conference supportive, a place that builds attendees up so that when they leave and go back to their families or into their professional lives, they feel rejuvenated, excited, and ready to do the work," says Adam Holland, PhD, FPG research scientist and co-chair of the Inclusion Institute.
Concurrent sessions—offering best practices to ensure that all children succeed—cover a wide range of topics including, "Advancing Equity in Early Childhood Education, "Gender Expansion-Beyond and Outside the Binary," and "Music-Mediated Interventions: Inclusion Practice in a Digital World." Sessions designed to care for the caregiver include, "Bouncing Back! Enhancing Your Resilience," and "Caring for Yourself While You Care for Others: A Heartfelt Response to Stress."
Attendees are also invited to two pre-institute workshops: "Dealing with Challenging Behavior: Innovative Tier I Strategies for Classroom Teachers" (waitlist only) and "Supporting STEM Learning for ALL Children."
Jackie Joseph, PhD, BCBA-D, executive director of the Rise School of Denver, will present the keynote talk, "Combining Science and Heart: Relearning Inclusion Through Love." As an educator and administrator in early childhood education and a parent of a child with a rare genetic syndrome, Joseph brings a unique perspective to her address. "She's going to share important first-hand knowledge on how we not just promote inclusion but how we embed inclusion within our hearts, so that all of our actions line up with the central value of the importance of inclusion," says Holland.
Two plenary sessions are on tap. The federal plenary features an interagency panel of policy leaders who will provide updates about early childhood priorities at the federal level. Speakers will share information about inclusion initiatives within their agencies, how those agencies are working together, what professionals working in the field can expect, and how those professionals can support these initiatives.
Jenna Ramsey, the featured speaker in the family plenary, will share the story of her son, PJ, who was born with significant disabilities and lived a full life before his passing. Like Jackie Joseph, Ramsey offers a hybrid lens on inclusion, as both a mother of a child with disabilities and an educator of children with disabilities. Her message about the importance of inclusion and how it enriched the quality of life for PJ and their family is sure to inspire attendees.
Holland looks forward to welcoming people to the conference, whether they attend online or in person. "Having this hybrid format is groundbreaking," he says. "We're both excited and nervous about what's to come but we're certain that it's going to be great."