The National Implementation Research Network at FPG and the Centre for Effective Services in Ireland Release Skills and Competencies for Implementation Specialists
Date Published:
07/26/2017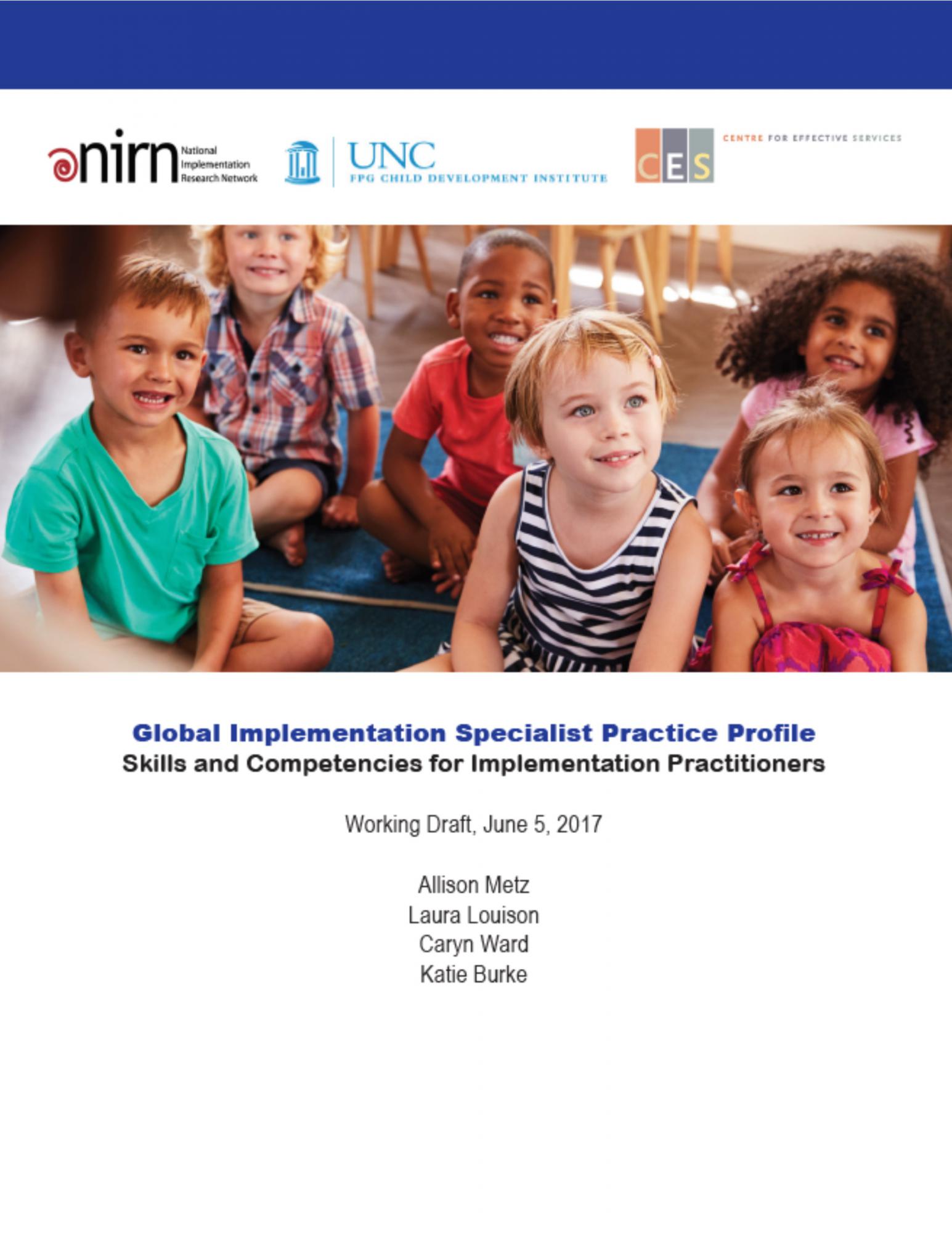 Implementation science now has a defined set of skills and competencies essential for building a professional workforce to support the translation and use of evidence in practice and policy settings. In collaboration with the Centre for Effective Services (CES), FPG's National Implementation Research Network (NIRN) recently debuted the Global Implementation Specialist Practice Profile at the Global Implementation Conference in Toronto.
"This is the first set of competencies for implementation practitioners," said NIRN Director Allison Metz. "It garnered a lot of positive attention at the conference, with participants interested in building a workforce to support implementation efforts. With our plans to collaborate with global partners to vet and build consensus for these implementation specialist competencies, it will have a major impact on the field."
According to Katie Burke, Senior Manager at CES, an intermediary organization based in Ireland and Northern Ireland, "the field of implementation science has identified key variables, strategies, frameworks, and conceptual models that help systems and communities adapt and sustain change. However, building the capacity to use implementation science requires much more than mere knowledge of it."
"This capacity building requires our implementation specialists to have particular skills and competencies," she said. "Our new profile describes these skills and competencies in terms of philosophical principles, which guide the work of implementation specialists, and as essential functions, which explain a range of activities they undertake."
Laura Louison, Associate Director of NIRN, said the implementation science principles undergirding the Global Implementation Specialist Practice Profile draw on the work of NIRN, FPG, the UNC community, and global partners such as CES. Implementation science focuses on effectively using evidence in real-world practice settings and policy contexts.
"By using these competencies, Implementation Specialists can strategically use evidence more quickly, widely, and efficiently in complicated systems," Louison explained. "This benefits more people, and it does so more immediately."
Five principles provide a foundation for implementation scientist-practitioners: empathy, curiosity, commitment, using science to inform decisions, and an embrace of transdisciplinary approaches. The NIRN and CES teams also categorized the essential functions of implementation specialists, including supporting the active involvement of stakeholders through all stages of the process, facilitating regular feedback that powers ongoing improvement, and promoting sustainability.
Not surprisingly, implementation specialists must be willing to wear many hats. Among their numerous and varied roles, they create spaces for new ideas to emerge, connect otherwise disconnected individuals and groups, and even address power imbalances. They synthesize diverse perspectives of thought, schedule meetings, clarify expectations, help manage risks—and much more.
Sustainability, of course, is a critical objective of their work.
"The field views an intervention or approach as sustainable when its core elements continue, as originally intended, after initial support for implementation has ended," said Caryn Ward, NIRN Associate Director. "Implementation Specialists must develop the capacity to maintain these core elements with fidelity."
This means that implementation specialists must be able to cultivate leadership and enable what the NIRN/CES team calls "participatory problem-solving."
"One area of our core activities that supports participatory problem solving requires that when complex challenges come without easy solutions, implementation specialists must help stakeholders generate alternatives, supporting a free-flowing conversation that is open to all points of view—a discussion that suspends judgment," Ward said.
Personal interactions and connections are crucial to sustainability. According to the Global Implementation Specialist Practice Profile, the implementation specialist's job description explicitly includes a charge to "grow and sustain diverse, authentic, respectful, and trusting relationships with stakeholders" in order to support change efforts.
Metz said NIRN and CES are currently forming international partnerships with other organizations to conduct "usability testing" of the profile, piloting it with implementation scientist-practitioners in range of global contexts. "We want to ensure these skills and competencies are relevant, understandable, helpful, and measurable."
Metz also said that having a tried and tested profile of core competencies will be additionally useful for universities, including UNC, as they consider creating or adapting graduate degree and certificate programs in implementation science.
"These principle-based functions and activities can inform how best to tailor a curriculum for the next generation of implementation specialists," she said.
read the Global Implementation Specialist Practice Profile
Contact
Allison Metz, Director
FPG's National Implementation Research Network
919.966.7297
allison.metz@unc.edu