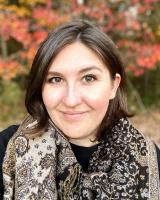 Stephanie Kennedy
Education
Community, Management, and Policy Practice,
The University of North Carolina at Chapel Hill
Maternal, Child, and Family Health,
The University of North Carolina at Chapel Hill
Biographical Statement
Stephanie Kennedy, MSW, MPH, is an implementation associate with the National Implementation Research Network (NIRN) at the Frank Porter Graham Child Development Institute. She provides technical assistance and implementation support to learning partners on the Bill & Melinda Gates Foundation Effective Implementation Cohort (EIC) project to support implementation of high-quality middle years math curricula. Her work also focuses on supporting implementation capacity for initiatives that aim to improve health outcomes of children and adolescents, such as NC Early Psychosis Intervention (EPI-NC) and Virginia's Evidence-Based Practices Initiative: Transformation Zone.
In her previously held experiences, Stephanie developed and supported learning communities, training cohorts, and communities of practice for public health and mental health researchers and practitioners across the country. Stephanie has also served as a leader, trainer, and board member of the national mentoring organization Women and Youth Supporting Each Other since 2014.