FPG Scientist Ximena Franco Discusses the Benefits of Bilingualism for the "Latino Educational Achievement Partnership"
Date Published:
05/04/2017
On Thursday, April 27, FPG research scientist Ximena Franco (left) spoke at the largest fundraiser of the year for the Latino Educational Achievement Partnership (LEAP). She discussed the benefits of bilingualism, as well as her work at FPG with dual-language learners and immersion schools.
Children who are learning more than one language are a large and growing group in early childhood education programs, and Franco has more than 10 years of experience in clinical, life-span developmental psychology, and applied research--most of which stems from working with ethnically diverse children and families within clinic, school, and community settings. She is especially interested in the study of socio-emotional development of preschool-aged dual language learners.
Her recent work includes creation of free online training that provides an overview of the cognitive, social-emotional, and language development of dual language learners, including examples of how early childhood professionals can support children. With FPG's Nicole Gardner-Neblett, Franco developed videos and reflection assignments to teach professionals how to identify ways to support dual langauge learners in their own care settings.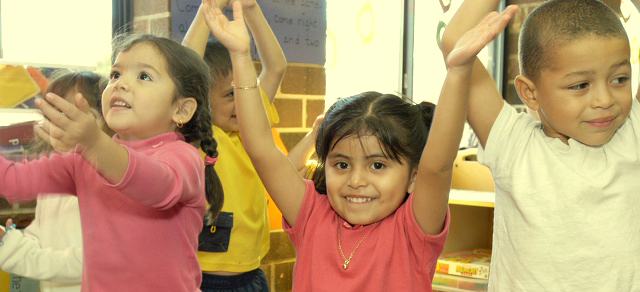 Franco also recently helped spearhead groundbreaking research at a Spanish immersion elementary school. In addition to conducting classroom observations, Franco and FPG's Doré R. LaForett gathered data from teachers and children to answer questions about home language, the language of instruction, peer networks, and classroom participation—and how these pieces of the puzzle fit together.
Franco's experience dovetails with LEAP's mission to "enhance children's literacy with developmentally-appropriate instruction and support." The program originally began in 2008 when a single attendee at St. Philip's Episcopal Church started providing English-as-a-Second-Language tutoring to adults at another Episcopal church in Durham, North Carolina. That first volunteer subsequently persuaded other parishioners to join her, and two years later, church members requested that volunteers focus on school-aged children.
The program expanded across three churches, and over the ensuing two years volunteers tutored children twice each week, specifically targeting literacy skills. By 2012, LEAP had opened its first pre-K class, convened a board of directors, and began hiring staff. In partnership with the East Durham Children's Initiative, LEAP's second pre-K opened in 2015.
Franco said that although the fundraising event has passed, LEAP continues to seek additional community support through volunteers and donations.