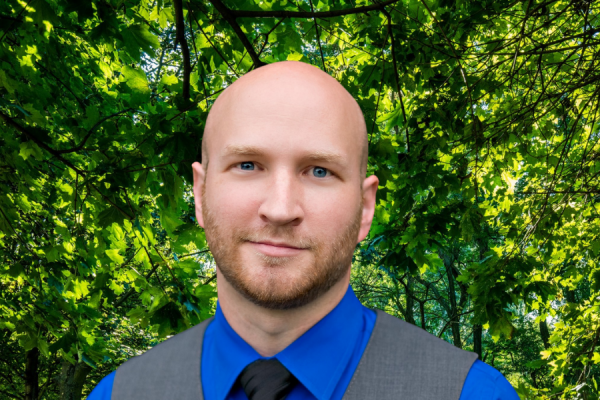 Q&A with Adam Holland, PhD
Adam Holland, PhD, is a technical assistance specialist at the UNC Frank Porter Graham Child Development Institute (FPG). His research interests include motivation in early childhood, promoting cognitive development in young children, equity, and understanding the effects of classroom processes on children's social and emotional competence.
What is your role at FPG?
I am currently a technical assistance (TA) specialist working on various projects related to inclusion and equity for young children with disabilities. I serve as chair of the International Early Childhood Inclusion Institute, an annual conference focused on bringing together interested parties for the purpose of learning about and discussing inclusive policy, professional development, and practice. I also serve on the leadership team for the STEM Innovation for Inclusion in Early Education (STEMIE) project, which focuses on promoting the inclusion of young children with disabilities in early, high-quality STEM learning experiences.
What was your path to FPG?
I began my career teaching elementary school here in North Carolina. While teaching kindergarten, I was able to begin work on my master's degree at UNC-Chapel Hill in the Early Childhood Intervention and Family Support program thanks to funding from one of Harriet Able's preparation grants. I found many of the classes I took while working on that degree eye-opening. They highlighted that the way both I―and the school system in which I was practicing―were coming up short in our quest to meet the needs of underserved student populations. Feeling the need to focus not just on my own practice but on systemic equity, I returned to Carolina to complete a Ph.D. in education. During that time, I accepted a research assistantship on an FPG project, FirstSchool, which was focused on reforming PreK-3 education to promote equity for children of color and children living in poverty. After completing my Ph.D., I was hired at FPG as an investigator, continuing work on FirstSchool as the project expanded to include sites across the U.S.
While working on FirstSchool, I noticed the many ways that understanding inequity within our educational systems requires an understanding of intersectionality. Often, the issue is not that children and families are underserved in classrooms because of their race or socioeconomic status or disability. Rather, they are not fully served in classrooms because of their race and socioeconomic status and disability.
This realization led to me seeking to join and start projects that recognize the need to focus on equity broadly. For example, while I served as the director of the North Carolina Early Learning Network, we worked to create professional learning modules that taught teachers about implicit racial bias as part of a broader focus on promoting children's development of social competence. Concurrent with this provision of support for teachers, we worked with the North Carolina Department of Public Instruction to re-write school policy around suspension and expulsion that was excessively targeting children of color and children with disabilities. In my current projects, I seek to continue this work of bringing together broad coalitions of stakeholders to solve problems that limit access to high quality educational opportunities for the children who are often most in need of them.
What excites you about FPG?
When I decided to leave the classroom, it was to find ways to more effectively improve educational experiences for our most vulnerable young children. Many places allow one to pursue a goal like this narrowly by, for example, conducting basic research on education and child development or creating professional learning opportunities for practicing educators. FPG is somewhat unique, though, in the breadth and depth of the work that goes on here along the research to practice continuum.
I am reminded each year, when we plan the program for the Inclusion Institute, of how many cutting-edge resources we create and evaluate at FPG. Our planning committee is not taxed with finding the most current research and knowledge because we are surrounded by it here. Rather, our job is to narrow down the wide variety of resources to best assist practitioners and policymakers in improving their classrooms, schools, and systems. I am comfortable knowing that, even on the rare occasion resources don't come directly from here at FPG, I am surrounded by experts with a deep knowledge of where to turn to find them. To be a part of an organization like FPG, which is focused on driving positive change through knowledge development and dissemination, is an incredible privilege.
How has your work at FPG supported your own goals and vision?
In the end, all our work comes back to helping children. Whether we are working in research, policy, implementation, or technical assistance, our work is fruitful when it improves the lives of young learners. My own goals are aligned with helping those children who have been marginalized and poorly served by our current systems. Working at FPG has given me platforms and opportunities to address these inequities in ways that exceed the wildest expectations of the teacher I was 18 years ago.
Through my work on STEMIE, I collaborate with some of the foremost experts in the field in multiple states to build and test knowledge frameworks that are changing the way we introduce STEM concepts to infants, toddlers, and preschoolers with and without disabilities. Through the Inclusion Institute, I have been able to connect with parents, educators, administrators, and policy makers to wrestle with the idea that inclusion is an ongoing process rather than a goal, leading to improvements in equity for children and their families. In these projects and my past work, I have been rewarded with numerous examples of how the effects of my work circle back to those children, improving their learning experiences and, ultimately, their lives.
What do you look forward to about the future of the work that you do?
The last year or two has been difficult for everyone, but there are silver linings beginning to emerge. Our remote work has paved the way for the acceptance that real learning and collaboration can take place virtually. For the Inclusion Institute, this means an expansion of our reach. We are shifting this year from being a national event to being an international event. Even next spring, when we move back to being an in-person event, we will apply lessons we have learned so that some presenters and attendees will be able to attend virtually. This will be a game changer for individuals for whom travel to North Carolina might not be feasible, be they international practitioners or families who cannot leave a child with disabilities.
There has also been a renewed focus on equity in society. States, districts, schools, and communities that had previously prioritized other initiatives are becoming more diligent in pursuing this kind of work. I am hopeful that this willingness will translate to a virtuous cycle. As more individuals come to the table, more innovative ideas will arise from collaboration. These ideas will find homes in more systems, which will bring other, more reticent leaders and stakeholders to the table.
Now is the time for us to seize the momentum and lead for positive change and reform. With continued support from FPG, I am confident that our teams on the Inclusion Institute and STEMIE will be able to do so.