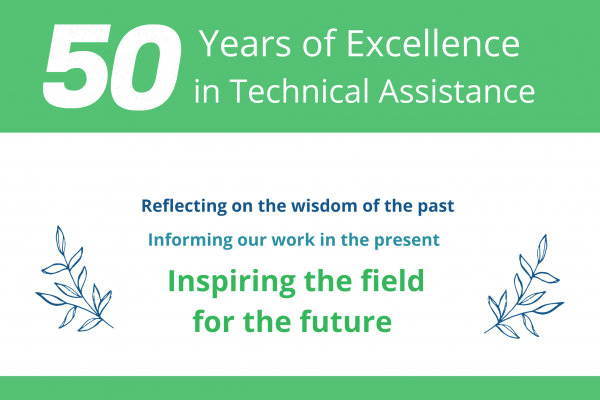 Celebrating 50 Years of Excellence in TA: Inspiring the Field for the Future
During the final webinar celebration of the UNC Frank Porter Graham Child Development Institute's (FPG's) 50th anniversary of excellence in technical assistance (TA), the emphasis was on looking to the future. The keynote speaker and panelists focused on inspiring the early childhood education and care field going forward, and the importance of centering the lived experiences of the children and families served. Betsy Clifton Ayankoya, MEd, associate director of FPG's Early Childhood Technical Assistance (ECTA) Center and director of equity, diversity, and inclusion at FPG cited a quote from diversity, equity and inclusion (DEI) strategist Arthur Chan, "Diversity is a fact. Equity is a choice. Inclusion is an action.  Belonging is an outcome." Ayankoya said, "That sums up our thinking about the direction that we are facing for this work."
Keynote speaker Seena Skelton, PhD, is director of operations of the Midwest and Plains (MAP) Equity Assistance Center, where she directs the provision of TA to state and local education agencies throughout the Center's 13-state region. Skelton pointed out that the disability community is the largest minoritized group in the country—and the most diverse—because anyone at any time can become disabled. "The future of TA recognizes this diversity," says Skelton, "providing culturally responsive services that demonstrate an appreciation of the unique challenges and assets of children and families related to their disability, but also a consciousness of how their disability experience is mediated by other identities."
As a Black woman born with a disability who attended public schools and received special education services—with more than 25 years as a practitioner in special education—Skelton has experienced personally the challenges faced by disabled youth of color and their families in accessing culturally responsive supports. She cited data showing that children of color face barriers to accessing early intervention resources services, which are often key to setting children with delays and disabilities on the path to long-term success. As an example: Black children with developmental delays are 44% less likely to be identified and receive services while Latinx children with developmental delays are 78% less likely to be identified as such and receive services.
Skelton argued that ensuring a future where all children and families benefit from TA begins with accounting for and appreciating the multiple and dynamic cultures of the system. Key to this is cultivating a critically conscious organization and TA providers. "Critical consciousness is an active and persistent state of awareness that consistently seeks to unearth the taken-for-granted norms that are often unexamined." says Skelton. Critically conscious TA providers, contends Skelton, examine these norms to uncover the ways institutionalized inequities, privilege, and oppression are masked.
Critically conscious practitioners consider not only the specific educational and therapeutic needs of the child related to their delay or disability, but also the systemic barriers that the child and their parents may face due to ableism and how their experience of ableism is socially mediated by racism and sexism. The first step for practitioners who wish to be critically conscious is to develop self-awareness of their social identities and understand that certain social identities are privileged in our society while others are marginalized.  
According to Skelton, "Critically conscious TA provision is concerned with how power and privilege play out in home, community, and early intervention practitioner relationships."  This occurs at both the individual and organizational levels.
Skelton's emphasis on equity and critical consciousness was echoed by the panelists. Catasha Williams, MEd, is a co-PI on the NC Early Learning Network (NC-ELN) project and the International Early Childhood Inclusion Institute and a TA Specialist with ECTA. Williams says the NC-ELN team talks a lot about critical consciousness and moving the needle in its external and internal work. "Our motto is, 'aware is halfway there.' It's not enough to just reflect and identify issues; we have to lead with action so that every child has the opportunity to reach their fullest potential, regardless of their race, ethnicity, gender or circumstances," says Williams.
Williams also shared that when she thinks about Pascal 'Pat' Trohanis and the Trohanis TA Projects at FPG, she appreciates the 50 years of dedication to improving the availability and quality of services and the work to ensure optimal outcomes for all children and families who are at risk or have a disability. "Dr. Skelton outlined data that are so clear: racism is hindering the outcomes for Black and brown children and families in our very own system," said Williams. "In order for us to effectively focus on inclusion, we must address systemic racism that is so clearly resulting in inequities."
Panelist Megan Vinh, PhD, a senior technical assistance specialist at FPG, recognized her privilege and spoke about her work toward dismantling racism and ableism. "We can't be effective TA organizations or providers if we're not centering equity and inclusion and taking action to disrupt and dismantle systems that are creating inequity," said Vinh, a member of the leadership team for the Trohanis TA Projects at FPG, PI of the STEM Innovation for Inclusion in Early Education (STEMIE) Center, Co-PI of the ECTA Center and lead of ECTA evaluation efforts.
Vinh quoted Professor Ibram Kendi who said, "A racist policy is any policy that results in inequity." She added, "We need to think about the impact of polices that govern the early care and education systems and about the disproportionate impact on historically underserved groups." Vinh said that she and her colleagues are changing the conversation from "race or disability" to "race and disability."
"This is a moment in education to boldly address the patterns in inequity that have long been pervasive," said Priscilla Irvine, MA, project officer at the Office of Special Education Programs (OSEP). "If we choose to go back to how things were [before the pandemic], we're choosing to go back to a system where you can predict outcomes based on race and place (which Secretary of Education Miguel Cardona has noted as a key determinant of outcomes.) That's a system where the color of your skin and your zip code are better determinants of outcomes than the aptitudes of infants, toddlers and their families."
"We recognize the need to develop critical consciousness at the personal and organizational levels, to honor families, to affirm cultures and lived experiences and assets, and the importance of being disability inclusive and recognizing the multiple identities of children, families, and practitioners," said panel moderator Alissa Rausch, MEd, assistant research faculty member in the Positive Early Learning Experiences (PELE) Center at the University of Denver and a member of the ECTA Center Leadership Team.
Rausch asked each panelist to offer a call to action for early childhood practitioners. Williams responded by saying that she is hopeful for the future based on her work with state leaders and colleagues. "We need to throw out this notion of arrival (at a solution) because advancing racial equity within our systems requires ongoing commitment paired with continual learning, awareness and action," she said. "We are not here to be right; we are here to get it right."
Vinh is excited for the future as she, colleagues, and partners dismantle and disrupt systems. "We don't know what an equitable society is going to look like because we don't have one," she said. "We need to do this work together."
In reflecting on the Anniversary, "We want to make sure that our staff are bringing all the diverse perspectives and experiences in the field. So, we are working hard to expand our team to include individuals from many different racial, ethnic, linguistic, and ability backgrounds," said Christina Kasprzak, MA, director of the Trohanis Technical Assistance (TA) Projects at FPG, and co-director of ECTA. "We still have a way to go so I'm not pretending that we're there, but we are dedicated to equity work."
FPG's TA Projects are working to address equity by collaborating with historically Black colleges and universities both to build the capacity of higher education institutions and to help create a more diverse workforce in early childhood education and care. Another recent initiative is the "aRPy Ambassadors" program, a collaboration of the ECTA Center, the Division for Early Childhood (DEC) of the Council for Exceptional Children, and the Region B Parent Technical Assistance Center (PTAC) at Parent to Parent of Georgia. The professional and family level ambassadors in each cohort build awareness among practitioners and families about recommended practices for developmental interventions in everyday routines and settings involving children and families.
More is in store for ECTA as it approaches its next half century with passion, vision, and commitment. "As we begin the next 50 years of technical assistance, let's dream big and bring our whole hearts when we plan for what lies ahead of us," said Ayankoya. "Our children and families are depending on us to do our part."