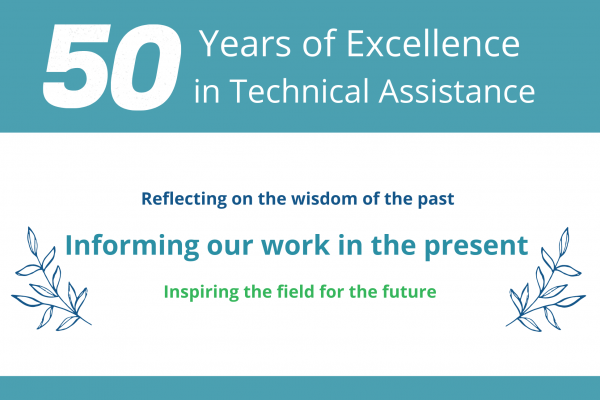 Celebrating 50 Years of Excellence in TA: Informing our Work in the Present
After honoring the 50-year history of technical assistance (TA) at the UNC Frank Porter Graham Child Development Institute (FPG) by looking at the organization's past work on behalf of children and their families, TA leaders celebrated this momentous anniversary by examining their current work.
Early Childhood Technical Assistance (ECTA) Center TA Specialist Jani Kozlowski, MA, began her keynote by talking about how her son Ricky's first months of life spent in a Ukrainian orphanage resulted in delayed development. This sparked her interest in early childhood inclusion.
 As a person with a disability, the mother of a child with a disability, and the daughter of a parent with a disability, Kozlowski's lived experience has reinforced her passion in inclusion. "Every child deserves the opportunity to learn alongside their peers and to achieve their greatest potential," she said.
"The sea is so wide, and my boat is so small." Kozlowski said that this Marian Wright Edelman quote speaks to her heart. "It may resonate with me, in particular, because I am a little person; I stand at 4'6" tall and my metaphorical boat is indeed small," said Kozlowski. "It does sometimes seem as though the sea is wide, and that we have a long way to go to make early childhood inclusion the norm rather than the exception. My boat is small, but I also know that my boat is not the only boat. I have many partners in this work. Together we make a mighty fleet on behalf of children and families."
FPG's TA fleet is filled with people who value other people and relationships, a tradition that stems from the value that Pat Trohanis placed on building relationships. "Relationships are at the heart of what we do," said Kozlowski. "That is true with the TA supports that we provide for state leaders…who need a trusted partner, a sounding board, a person that they can try out an idea with knowing that they will be met with support rather than negative judgement." She noted that these relationships with state leaders are helping create a shift in systems to make inclusion a reality for all children.
To realize this desire, FPG uses its indicators of high-quality inclusion—which offer key strategies and guidance for those working in early childhood environments, local programs, and communities, as well as those working at the state level—in its work with state leaders. "The indicators provide benchmarks to track our progress over time, and states are using data from the indicators to make decisions on behalf of children and families," said Kozlowski.
States are also grappling with equity in early intervention and early childhood special education systems. But Kozlowski believes equity is possible in early childhood. "We are a group of people committed to social justice, and fairness, and being the voice for people who do not have a voice. Equity is about giving the just right supports – it's a way to address disparities that exist due to racism, ableism, poverty, and other barriers that are faced by many children and families."
 
Kozlowski shared that when she thinks about her work, her son Ricky is her why and the early childhood field is her how.  "Through educators, through communities, through partnerships, and through state-level leadership, we can make inclusion happen for children and families," says Kozlowski.
Kozlowski ended her talk by saying, "It's true that the sea is wide, and my boat is small, but every ripple on the water that we create will turn into a wave."
Many of those ripples are being created by FPG's visionary TA staff. During the panel discussion—moderated by Katy McCullough, MA, TA specialist for the ECTA Center—three leaders shared insights into the organization's current innovations. Chih-Ing Lim, PhD, co-director of the STEM Innovation for Inclusion in Early Education Center (STEMIE), talked about the "disruptive transformation" work she leads. "At STEMIE, we want to transform early STEM (Science, Technology, Engineering, and Math) experiences so they are accessible for all, since children with disabilities are often denied opportunities to participate in STEM experiences," she said.
"Our TA work is building awareness that, right from infancy, children have curiosity and wonder about the world around them and are capable of engaging in STEM opportunities," said Lim. "We want to support the adults in children's lives to reframe their lens so they can have high expectations of themselves and children and help them see the possibility of STEM in everyday routines and activities."
Panel member Sherri Britt Williams, MPH, wears many hats: leader of the TA Division at FPG; principal investigator and co-director of the North Carolina Early Learning Network (NC-ELN) project; and TA specialist for the ECTA Center. She shared that the ECTA Center and the NC-ELN are engaging system and program leaders in taking a more comprehensive look at professional development support within a framework of implementation sciences.
"The TA support we're providing to the North Carolina Early Learning Network project is focused on building leadership capacity to ensure that essential statewide support structures are in place so that practices can be implemented to improve outcomes for children and families in North Carolina," said Williams. "By building capacity for states to understand implementation and how it progresses over time, we're also helping them to set up a strong infrastructure for professional development support."
Panelist, and FPG Executive Leadership Board member, Rhodus Riggins, MEd, spoke about his focus on the readiness and internal work needed to ensure equity. Riggins, focused quality enhancement coordinator at the Education Quality Improvement and Professional Development Project (EQuIPD) at the University of North Carolina-Greensboro, is also a former FPG staff member and a current member of FPG's executive leadership board. "We're applauding the state-level organizational response of those providing early intervention to children and families who are really stepping up to look at their organizational practices and policies that may express interest in equity or may not," he said.
"We're looking at tenets of service-based equity in terms of who is receiving early intervention services and who is not and looking at service providers themselves: who is providing the services and who is not," added Riggins. He emphasized the importance of common language, conversations, and commitment in order to change equity practices at the personal and professional level and in policies.
Williams added that her division's TA priorities are centered on promoting and providing equitable experiences in early childhood. "One example of our priority of centering equity is the early education equity cohort (E3) of the North Carolina Early Learning Network project that FPG is supporting," she said. "It's also an example of how TA support is responsive and informed by data because the E3 cohort was designed in response to feedback we received after providing a webinar on equity in early childhood." Participants expressed an interest in better understanding how they could support and promote equity to make changes in their classrooms and spheres of influence, which has resulted in teams from across the state developing action plans specific to their classrooms, families, and partners.
Similarly, Riggins said that one of the central conversations that EQuIPD staff members are having is rethinking technical assistance outcomes. "If our goal is to achieve equity, we must be willing to step back and rethink some of our TA outcomes so they are more reflective of fuller stories of engagement with individuals and systems," he said. "We may need to shift our outcomes to reflect lived experiences and remember that there are humans behind quantitative numbers and data."
Moderator, Katy McCullough, MA, highlighted the nine effective TA practices developed by the Trohanis TA projects based on now 50 years of experience, ongoing collection and use of evaluation data, and existing literature. "These nine practices," said McCullough, "help to define a collaborative, coordinated effort to facilitate change, build capacity, improve practices, and reach agreed upon outcomes in the early childhood systems that we serve."
In a testimonial at the end of the webinar, Larry Wexler, director of OSEP's research to practice division, said, "While individual projects have, of course, contributed to the field, what I see as FPG's greatest strength across these past 50 years is its systems thinking, its development of and support for frameworks for the delivery of early childhood education and early intervention services. This approach has made Frank Porter Graham an international beacon for high quality services for young children with disabilities."