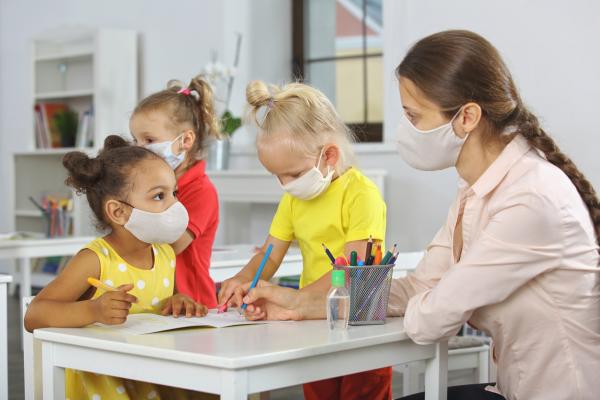 FPG shares expertise in research-policy-practice partnership
For more than 20 years, the UNC Frank Porter Graham Child Development Institute (FPG) has enjoyed a research-practice partnership with the Department of Child Development and Early Education (DCDEE) of the North Carolina Department of Health and Human Services. Last year, this collaboration was strengthened even further with the establishment of a formal research-policy-practice collaboration.
Since the North Carolina Pre-K Program, formerly called More at Four, was created in 2001, FPG has conducted independent evaluation studies of the program. Building on this relationship between DCDEE and FPG, leaders of the organizations began talking in 2020 about other ways FPG could support the work of DCDEE. This resulted in a one-year contract that began in September 2021 for FPG to provide its expertise to explore the existing research literature about issues related to early care and education quality to help guide some policy decisions at DCDEE. FPG was also engaged to use DCDEE's existing administrative data to answer questions of interest. DCDEE renewed its funding in September 2022 for this ongoing project.
The work of the FPG team—led by Sandra L. Soliday Hong, PhD, an advanced research scientist and the policy division lead—fits in the translational space between applied research and policy decision making. By having the FPG team perform basic research and then generate applied research, DCDEE receives help in framing policy questions and interpreting research data in a way that's useful for guiding decision making.
In addition to Soliday Hong, the FPG team is comprised of co-PIs Ronald Seifer, PhD, associate director for research, and Noreen Yazejian, PhD, senior research scientist. They are joined by David Bogojevich, MEd, programmer; Julie Chin, educational technology specialist; Gisele Crawford, MAA, social research specialist; Allison De Marco, PhD, advanced research scientist; Faculty Fellow Iheoma Iruka, PhD; Jada Walker, MEd, project coordinator; and Sherri Britt Williams, MPH, senior technical assistance specialist, who leads FPG's technical assistance division. They have had the support of graduate students Kylie Garber, PhD and Lindsey Gomes. Soliday Hong notes that part of the training mission built into this project is building a pipeline of bright young UNC scholars to make contributions in the public policy space.
FPG began this project by identifying the sources of federal and state funding and then providing an overview of the complex funding streams that flow into North Carolina and then from the state to fund the early care and education system. This has enabled DCDEE to have a comprehensive overview of the funding regulations by which it needs to abide alongside the early childhood care and education sites it funds. The second set of activities included examining the research literature around early school literacy readiness as well as the inequities in North Carolina's K-12 educational systems that have implications for early care and education.
While FPG's primary role has been to provide research support for questions of interest to DCDEE leadership, Soliday Hong and her colleagues have also supported DCDEE's involvement in the Birth Through Third Grade Interagency Council—which coordinates with the North Carolina Department of Public Instruction and the General Assembly—to streamline services designed for children birth to eight years old. Soliday Hong says that because FPG acts as a neutral party between those groups, the Institute has been able to facilitate conversations so the agencies are able to continue to do the good work that was underway.
Similarly, FPG provided behind-the-scenes assistance during the supply shortage of infant formula. By temporarily helping with data analysis and writing, FPG supported DCDEE efforts that obtained funding from the federal government through the Special Supplemental Nutrition Program for Women, Infants, and Children (WIC) for qualifying families.
"It is really important for our state agency and the state's flagship university to have a strong connection and we are happy to bring that forward into a new generation of programs and state leadership," says Soliday Hong. "There is an energetic and visionary group of leaders at the state level who are thoughtful and taking the time to plan and be proactive  so it is great that we can assist them by providing information that will help them make decisions moving forward."
The project team also analyzed DCDEE's systems data on the number of North Carolina early care and education programs, how many children they serve, and the number of teachers in these programs. This provided longitudinal mapping of full program capacity in the three years before the pandemic as well as during the pandemic and late-pandemic periods so that DCDEE can better understand issues and trends related to federal and state stabilization funding.
FPG has also completed an overview of the school readiness standards in North Carolina looking at both the process and outcomes from when they were last redesigned and exploring current realities and what is needed next.
Soliday Hong notes that every policy decision has intended and unintended consequences and that by drawing from the historical experiences of North Carolina as well as the experiences of other states, FPG researchers can provide a fuller picture of what may be around the corner with any given decision, without advocating or advising with a particular agenda in mind. Instead, the FPG team shares research about topics and decisions with which state leaders are grappling.
"The work we are doing is helping build transparency into the current system," says Soliday Hong. "This helps state leaders move forward in an evidence-based manner. Because we have this research/practice partnership established, we can respond rapidly and provide relevant timely information for our state partners. Ultimately the beneficiaries are children, families and the teachers and operators in our child care system."