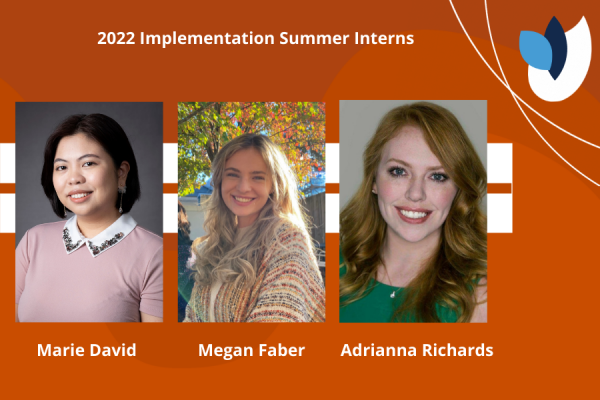 Implementation Division welcomes 2022 summer interns
The UNC Frank Porter Graham Child Development Institute's (FPG's) Implementation Division welcomes three interns for its third cohort of the Implementation Division Summer Internship Program.
This internship program is a paid opportunity for masters' and doctoral students designed to create a challenging and meaningful professional experience that exposes them to implementation practice and research across a variety of fields and practice settings.
FPG's Implementation Division consists of three workgroups—The Impact Center, the National Implementation Research Network (NIRN), and the Trohanis Technical Assistance Projects.
Sandra Diehl, MPH, CHES, an implementation specialist at FPG, says the division is excited to offer its third cohort of interns a meaningful internship experience. "We're thrilled to work with such a talented group of graduate students who will be working on several key issues in the field."
Meet the new interns:
Marie David is a doctoral candidate in special education at Purdue University. She is also a board certified behavior analyst. Her research interests lie in the assessment and treatment of challenging behaviors of adolescents with developmental disabilities. More specifically, she is interested examining factors that influence the implementation of functional behavior assessments and challenging behavior interventions within applied settings and using implementation science to develop training models for professionals working in school-based contexts. She'll be working with Caryn Ward, PhD, and Sophia Farmer and the State Implementation and Scaling Up of Evidence Based Practices Center (SISEP) team on developing learning resources for understanding context.
Megan Faber is an MPH student in the maternal, child and family health concentration at the UNC Gillings School of Global Public Health. She holds an undergraduate degree in human development and family studies from the University of Vermont, with minors in nutrition, health and society, and behavior change health studies. Her interests are related to early childhood development and the family context of health trajectories. She'll be working with Sandra Diehl on advancing implementation practice through creative capacity-building tools.
Adrianna Richards is earning her PhD in clinical psychology at the University of North Carolina at Chapel Hill. She previously received her MA in clinical psychology from UNC-Chapel Hill, her MA in applied clinical psychology from the Pennsylvania State University, Harrisburg, and her BA in psychology from the University of California, Los Angeles. Adrianna's clinical and research interests involve positive psychology, resilience, and healing in survivors of childhood trauma and adversity. She'll be working with Rebecca Roppolo, MPH, and Christina DiSalvo and Triple P in North Carolina on evaluation and reporting on implementation, impact, and improvement of a statewide evidence-based program for children and families.