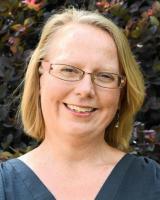 Katy McCullough
Technical Assistance Specialist
Sheryl-Mar North, Room 280
Campus Box 8040
Chapel Hill, NC 27599-8040
Education
Social Service Administration,
Human Development and Social Relations,
Biographical Statement
Katy McCullough, MA, is an associate director with the Early Childhood TA (ECTA) Center within the Trohanis Technical Assistance (TA) Projects. She provides technical assistance to Early Intervention/Part C and Preschool Special Education/619 Coordinators in states supporting system change in topics such as early intervention services, finance, and early childhood inclusion. She also currently works on the Center for IDEA Early Childhood Data Systems. Previous projects include the Statewide Early Childhood Birth-Five Needs Assessment for North Carolina as part of the Preschool Development Grant Birth-Five, the Recommended Practices (RP) Modules, the National Regional Resource Center Program (Mid-South), and SpecialQuest Birth-Five.