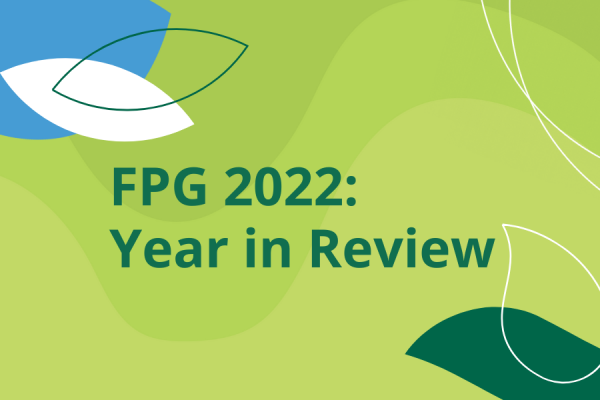 FPG News: 2022 Year in Review
Here at the UNC Frank Porter Graham Child Development Institute (FPG), we generate knowledge, inform policies, and support practices to promote positive developmental and educational outcomes for children of all backgrounds and all abilities from the earliest years. Our ultimate aim is to help each and every child reach their full potential.
Throughout the year, we share information about the work we do to accomplish this, sharing news stories on our website that feature our people, projects and publications.
As 2022 comes to a close, we're taking a look back at some of the news stories we've highlighted over the last 12 months.
In January, we announced the launch of a new program within FPG—FRONTIER, which stands for "Fostering Research on Neuro-Prevention via Infrastructure, Education and Relationships." Through this new program, founder and director Diana Fishbein, is furthering her mission of mitigating the impacts of adversity and promoting healthy development for children and adolescents. We announced a new study that looks to identify gaps and equity challenges in the Early Childhood Environment Rating Scale (ECERS), which is in its third edition. The study is being led by FPG co-principal investigators Noreen Yazejian and Iheoma Iruka.
In February, we discussed the launch of a new app, My STEM Adventure, produced by the STEM Innovation for Inclusion in Early Education (STEMIE) Center, in partnership with Bridge Multimedia and Fable Vision. The intention of the app is to help young children learn about science, technology, engineering, and math by exploring the world around them together with the adults in their lives. In addition, we featured a study that shows a lack of representation across historically minoritized racial and ethnic groups in autism intervention data. The study was led by FPG Faculty Fellow Jessica Steinbrenner.
New research findings from FPG Advanced Research Scientist Cathi Propper, were highlighted on our website in early March. The results indicate that the ways in which infants at six months of age are parented exerts an influence on the children's sleep quality at 18 months which, in turn, is associated with aggressive behavior in early childhood. We were also excited to share a story featuring innovative ways to increase awareness about the importance of STEM and computational thinking for the youngest learners and to encourage early childhood providers, practitioners, and families to embed these concepts and learning opportunities into their daily routines and activities.
Just one year after reaching 200,000 users, the Autism Focused Intervention Resources and Modules (AFIRM) project at FPG has reached another milestone―250,000 users now rely on AFIRM for evidence-based practices that can help learners with autism. Also in that month, we announced the winner of the 2022 Barbara Davis Goldman Award for Excellence in Undergraduate Research. Hannah Spitzer was named the winner of this year's award for the research she conducts as an integral team member of Project EXPRESS.
With its commitment to advancing science, FPG is dedicated to impacting and influencing the next generation of researchers. During the spring 2022 semester, Iheoma Iruka, founding director of FPG's Equity Research Action Coalition, mentored four undergraduate students who undertook a project to determine the impact of reparations on Black children and families. Also in May, we reported on how FPG's Ann Sam and several UNC colleagues from the School of Education and the Department of Allied Health Sciences answered a call for help from Ukraine, collaborating to create a compilation of simple-to-use resources, accessible online, to help families and others who care for autistic children and youth cope with the violence and uncertainty of war.
In June we announced that FPG social research assistant Kylie Garber received a postdoctoral fellowship from the Society for Research in Child Development, an immersive one-year opportunity to learn about policy development, implementation, and evaluation, as well as how to use developmental science to inform U.S. public policy. In addition, we shared that Orla Putnam, a UNC doctoral student in Clare Harrop's lab, and Clare Harrop, a research assistant professor in the Department of Allied Health Sciences, and a faculty fellow at FPG received an NC TraCS award for a project titled, Gendered Experiences in Autism Research: Analysis with Stakeholders.
Despite good intentions, U.S. education systems struggle to adopt evidence-based practices to improve the quality and effectiveness of services provided for students with disabilities. In July, we highlighted how implementation science—the multi-disciplinary study of methods and strategies to promote use of research findings in practice—can address this problem. And we were also pleased to announce that Chih-Ing Lim, a senior technical assistance specialist at FPG received a Global Partnership Award to advance a partnership with the National Institute of Education at Nanyang Technological University in Singapore over the summer.
In August we considered the question, "Can prevention science help reduce substance abuse and gun violence?" We also took a closer look at the work researchers at FPG are doing in support of the Educare Learning Network—a coast-to-coast consortium of state-of-the-art, full-day, year-round schools serving children from birth to 5 years who are at risk for school failure—and the FLP-ECHO project, which is working toward understanding the effects of a broad range of early environmental influences on child health and development.
With funding from the U.S. Department of Education's Institute of Education Sciences, a team of researchers from FPG launched a measurement study focused on the social-emotional learning of young children. The project is designed to establish the psychometric qualities of the Teacher Impression Scale, a practitioner-administered assessment of preschool children's peer-related social competence. Led by FPG Senior Research Scientist Samuel Odom, the project team includes advanced research scientists Ann Sam and Ximena Franco-Jenkins and faculty fellows Stephanie Reszka and Brianne Tomaszewski. Besides highlighting this new study, we announced a new award for FPG's Early Childhood Technical Assistance (ECTA) Center. The award, funded by the Office of Special Education Programs, U. S. Department of Education, builds on ECTA's current work of supporting programs that serve young children with disabilities, birth to 5 years, and their families.
In October, we were excited to announce that the State Implementation and Scaling-up of Evidence-based Practices (SISEP) Center received its fourth round of funding. Thanks to the new five-year grant from the U.S. Department of Education's Office of Special Education Programs, a group of researchers at FPG will expand its work to support implementation of instructional and leadership practices that lead to improved outcomes for students with disabilities. We also highlighted how, in support of the Institute's strategic plan, researchers and members of the Research and Evaluation Division at FPG have been working to embed racial equity in everything they do.
In November, we featured two FPG profiles—one with FPG Research Assistant Linda Soto, and another with TRI Intervention Director, Heather Aiken. We also checked in with Iheoma Iruka, for a program update on FPG's Equity Research Action Coalition, to learn about its work promoting and supporting the healthy development of Black children across the African diaspora and other children of color.
Finally, in December, we reported on the launch of a new evaluation study of the MECK Pre-K Program. Advanced Research Scientist Ximena Franco-Jenkins serves as co-principal investigator, alongside HighScope Educational Research Foundation, to conduct this longitudinal project, which is expected to span 10 years. And we spoke with FPG Advanced Research Scientist Allison De Marco about conducting community-centered research.
In addition to these and all of our other news stories from 2022, you can read about any one of our more than 50 active projects and check out the more than 63 new resources—books, book chapters, curricula and training materials, journal articles, reports and policy briefs, and technical assistance guides—produced by members of the FPG community in 2022.
We're looking forward to another year filled with exciting news, projects, and publications!