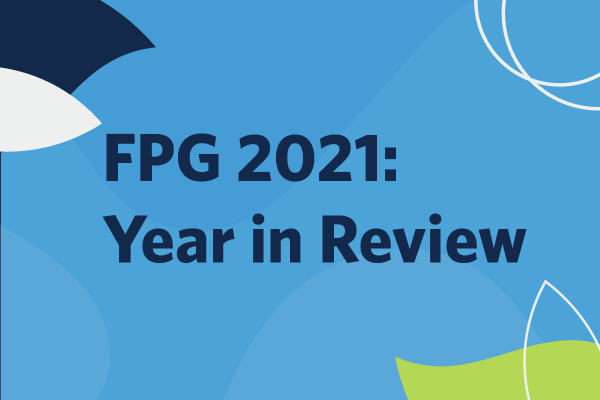 FPG News: 2021 Year in Review
Every child deserves a safe, healthy, and stimulating childhood―and, for more than five decades, our work has been dedicated to making this experience a reality for all children. Our research and evaluation, implementation, technical assistance, and outreach have all shaped—and continue to shape—how the nation cares for and educates children. Throughout the year, we share information about our projects and publications and highlight some of this work—and the people doing it—on our website.
As 2021 comes to a close, we're taking a look back at some of the news stories we've highlighted over the last 12 months.
In January, we shared that several autism researchers at FPG published a review of literature related to interventions for individuals with autism, identifying five new evidence-based practices and reclassifying interventions to better support those who serve children and youth on the autism spectrum. We also announced that Jenille Adams Morgan, MA, a longtime research specialist at FPG, was named assistant director of equity, diversity, and inclusion in an expansion of the Equity, Diversity, and Inclusion Office at FPG.
In February, we reported that a longitudinal study following children who attended Georgia's Pre-K Program shows that certain gains from pre-K persist through the third grade, particularly when it comes to language, literacy, and social skills. And FPG's North Carolina Early Learning Network (NC-ELN) was one of only two programs nationwide selected for the Implementation Coaching to Advance Equity in Pyramid: TA Partnership from the National Center for Pyramid Model Innovations (NCPMI).
Just one year after reaching 100,000 users, the Autism Focused Intervention Resources and Modules (AFIRM) project at the UNC Frank Porter Graham Child Development Institute reached another milestone. We were excited to announce in March that 200,000 users were relying on AFIRM for evidence-based practices that can help learners with autism. Also that month, we shared that a new database, created by technical assistance specialists and an applications analyst at FPG, provides key information about state and jurisdictional IDEA Part C eligibility policy.
In April, the Early Childhood Technical Assistance Center (ECTA) at the UNC Frank Porter Graham Child Development Institute selected 13 new members for its 2021 cohort of 'aRPy Ambassadors' from across the country to help implement official recommended practices for the care and education of young children with disabilities. In addition, we welcomed our new faculty fellows, shared a message in support of ALL children and families, interviewed two of our researchers, Laura Kuhn and Kirsten Kainz, and congratulated this year's recipient of FPG's Barbara Davis Goldman Award for Excellence in Undergraduate Research (Samantha Garcia Cruz).
In May, we recognized a milestone—ECERS, an influential environment rating scale for early childhood care turned 40—and spoke to veteran FPG investigators Thelma Harms, Dick Clifford, and Debby Cryer about that. And we were also excited to announce that FPG's Director of Equity, Diversity, and Inclusion, Betsy Ayankoya, was the recipient of the UNC 2021 Staff Diversity Award, which recognizes people and groups that have given their time and effort to advance diversity, equity, and inclusion at Carolina and in our surrounding community.
A multi-part video series—Preschool During the Pandemic: Early Childhood Education in Extraordinary Times—features preschool staff and families from across the U.S. and illustrates their working together to use technology to make the virtual learning experience exciting, effective, and engaging for young children. In addition to revealing this video series launch in June, we also announced the 2021 FPG James J. Gallagher Dissertation Award recipient—Sarah Pedonti.
July was a month of celebration, reflection, and welcoming new people to FPG. We announced the 2021 Abecedarian Award winner, Sandra Soliday Hong, welcomed seven new Executive Leadership Board members and two new Equity Research Action Coalition staff, heard from our 2021 McKinney scholars about their internship experience and spoke to advanced research scientist Ann Sam about her work supporting the use of evidence-based practices for children with autism using a variety of professional development approaches including coaching and interactive, online modules.
New media was front and center on our website in August. The State Implementation and Scaling-Up of Evidence-Based Practices (SISEP) Center at FPG launched a new video series and podcast for educators and implementation practitioners. And the STEM Innovation for Inclusion in Early Education (STEMIE) Center produced a video series about the importance of inclusion in STEM for young children, as well as a collection of resources for families to use at home.
September featured news about two new division leads at FPG. Sherri Britt Williams, MPH, took the reins as lead of the Technical Assistance division, after spending three months as co-lead with her predecessor, Christina Kasprzak, PhD. And Senior Implementation Specialist Caryn Ward, PhD, director of the National Implementation Research Network (NIRN) at FPG, was named head of the Institute's Implementation division. And we celebrated a half-century of OSEP-funded technical assistance excellence here at FPG.
October saw the Equity Research Action Coalition taking shape at FPG and the launch of Project EXPRESS, which received funding to evaluate two interventions working with adolescents on the autism spectrum.
In November, we highlighted news of an interdisciplinary team at UNC being awarded a grant to establish a North Carolina Community Employment Collaborative, and shared that FPG Faculty Fellow Clare Harrop received a 5-year, $3.28 million R01 award from the NIH (Eunice Kennedy Shriver National Institute of Child Health & Human Development) to chart the impact of assigned sex at birth on developmental trajectories in young autistic children.
Finally, in December, we reported that researchers at FPG launched the Child Find ACCESS project, a model demonstration to improve services and results for infants, toddlers, and children with disabilities. And a 6.2 million grant recently awarded to the National Implementation Research Network (NIRN) at FPG will help ensure students are receiving high-quality mathematics education in middle school—crucial years that can impact students' chances at successful high school graduation and post-secondary career success.
In addition to these highlights, you can read about any one of our more than 65 active projects and check out the more than 85 new resources—books, book chapters, curricula and training materials, journal articles, reports and policy briefs, and technical assistance guides—produced by members of the FPG community in 2021.
We're looking forward to another year filled with exciting news, projects, and publications!